A well-cared for home is intentional. Every. Detail. Matters. Walking into a beautiful, professionally designed room is energizing. We can make tiny spaces feel spacious, and over-sized rooms feel cozy and inviting. We can bring high-style looks to even the most lacklustre places. And give a newly-built home a warm, familiar feel.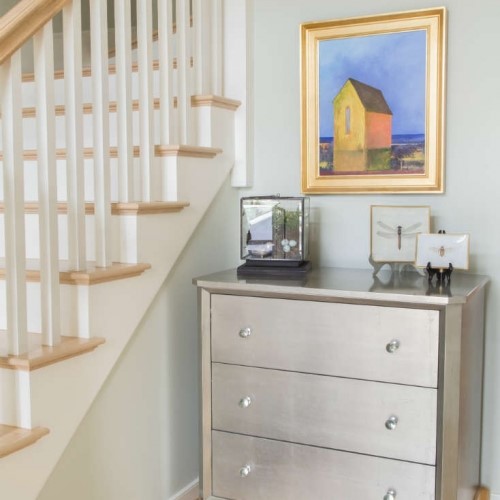 It all begins with inspiration. It's why every corner of our 2,500-foot showroom brims with a globally-curated mix of impossible to find furniture, accessories, lighting, rugs, fabrics, drapery, and art. It's also because of inspiration that our Studio came to be. From the day we first offered decorating services, we have been inspired to bring your long-loved design dreams to life. Our passion and desire grows with every project we do. (You can read more about that from our clients on our Testimonials page).
Casabella Interiors founder Michele Chagnon-Holbrook and her design team have the know-how to light up your Yarmouth Port home with sophisticated East Coast elegance. We're also experts at making the very most of your budget.
The Casabella Shop and Studio is located on the Cape, but we serve clients and customers throughout the East Coast, and beyond. From homeowners across the bridge (hello Boston, Duxbury and Hingham) to busy execs in our own backyard, we make collaborating remotely easy and stress-free. Since Cape Cod is an iconic destination, many people from NYC and all points north and east, plan their trip around a visit to our award-winning shop. If you know you're going to be in our area, call ahead a few weeks 508-888-8688 so we can set aside an hour or so to learn more about you and your family.
In the meanwhile, take a peek at our portfolio – chances are we've done a project or two near your hometown.
Casabella Interiors in Yarmouth Port
Home to the original Christmas Tree Shops until its closing in 2007, Yarmouth Port is located in the northern part of the town of Yarmouth, bordered to the north by Cape Cod Bay, to the east by Dennis, and to the west by Barnstable.
Tourism is the predominant industry in Yarmouth Port – with the town's population of 5,320 tripling each summer with the arrival of vacationers. The area has maintained its old-fashioned charm through the years and is considered one of the most charming and loveliest of mid-Cape towns.
Award-Winning Interiors Shop
Proud winner of the Best Shop for the Home by Cape Cod Life for the last six years, Casabella Interiors is a decorating enthusiast's dream. Michele has turned Casabella Interiors into a true design destination. To help you choose the best products for your Yarmouth Port home –including furniture, accessories, lighting, fabrics, drapery, art, and rugs, our shop staff and design team are ready to help in any way we can. Creating inspiring and innovative spaces for second homeowners is a big part of our business. And Casabella Interiors are dedicated to elevating how our clients live in their primary and seasonal homes.
Interior Design Consultation
We get to know our Cape Cod and Boston-based clients through our initial two-hour consultation. It's a critical part of helping us define the scope of work and the direction of your project. We make the design process easy and take the time to listen and explain all the details – nothing's a mystery. At Casabella Interiors, we put our years of experience, know-how and trade connections to work for you.
Residential & Commercial Interior Design Services
Casabella Interiors is a full-service interior design firm dedicated to the creation of custom interiors. We love combining rich, layered interiors and blending distinctive fabric with subtle textures and muted hues. And finding unique design solutions for our clients in Yarmouth Port. Based on Cape Cod on Rte. 6A in East Sandwich, Casabella Interiors' client roster includes residential, corporate, and commercial businesses.
Our most popular design services include our Paint Consultation package, our in-home couture package, and our new construction phase package. All of our services are uniquely tailored to our client's needs — we specialize in custom decor, renovation and making the most of your interior architecture.
• Concepting
• Space planning – Interior and exterior layout
• Project management – through the installation and completion process
• Order procurement/Work Orders
• Furniture, accessory, fabric, and artwork selection
• Design and specification of walls, flooring, plumbing, appliances, and cabinetry
• Ceiling design and lighting specification
• Millwork, interior trim design
• 3D renderings
• Open floor plan design
• Upholstery – custom pieces or existing furniture updates
• Office layout, functionality, and accessibility
Founder Michele Chagnon Holbrook and our design team focus on bringing a refined, thoughtful, and organic approach to our projects. Using a modern sensibility, we combine classic designs with sophisticated east coast aesthetics to give our Yarmouth Port clients something unexpected and unique. Our design process embodies creativity and versatility, and we work with our Yarmouth Port clients to create timeless interiors that reflect their lifestyle in an effortless way. The Casabella Interior design teams works side-by-side with artisans, architects and contractors to help our clients realize their dream spaces.
Areas Served
Norwell
Hingham
Westport
Wayland
Wellesley
Weston
Scituate
Cohasset
Duxbury
Plymouth
Pembroke
Humarock
Marion
Dartmouth
Mattapoisett
Padanaram
Osterville
Chatham
Wellfleet
Harwich
Harwich Port
Truro
Falmouth
Yarmouth
Yarmouth Port
New Seabury
Dennis
Dennis Port
Orleans
Mashpee
Hyannis Port