A well-cared for home is intentional. Every. Detail. Matters. Walking into a beautiful, professionally designed room is energizing. We can make tiny spaces feel spacious, and over-sized rooms feel cozy and inviting. We can bring high-style looks to even the most lacklustre places. And give a newly-built home a warm, familiar feel.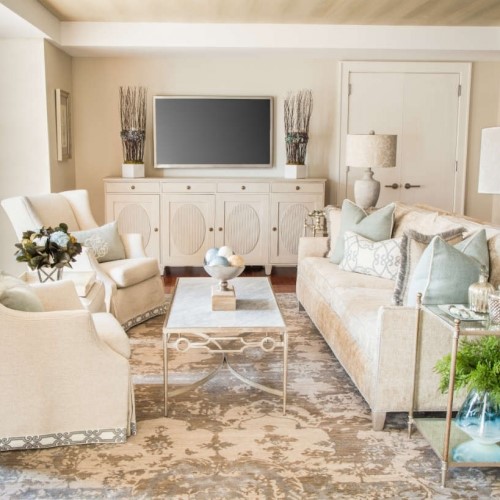 It all begins with inspiration. It's why every corner of our 2,500-foot showroom brims with a globally-curated mix of impossible to find furniture, accessories, lighting, rugs, fabrics, drapery, and art. It's also because of inspiration that our Studio came to be. From the day we first offered decorating services, we have been inspired to bring your long-loved design dreams to life. Our passion and desire grows with every project we do. (You can read more about that from our clients on our Testimonials page).
Casabella Interiors founder Michele Chagnon-Holbrook and her design team have the know-how to light up your home with sophisticated East Coast elegance. We're also experts at making the very most of your budget.
The Casabella Shop and Studio is located on the Cape, but we serve clients and customers throughout the East Coast, and beyond. From homeowners across the bridge (hello Boston, Scituate and Weston) to busy execs in our own backyard, we make collaborating remotely easy and stress-free. Since Cape Cod is an iconic destination, many people from NYC and all points north and east, plan their trip around a visit to our award-winning shop. If you know you're going to be in our area, call ahead a few weeks 508-888-8688 so we can set aside an hour or so to learn more about you and your family.
In the meanwhile, take a peek at our portfolio – chances are we've done a project or two near your hometown.
Casabella Interiors in Scituate
The majority of the homeowners – specifically second-homeowners – Casabella Interiors works with are based in and around Scituate. It's close to the Casabella Interiors store, bordered on the east by the Massachusetts Bay. There aren't many home furnishings studios or stores with home décor and accessories in the Plymouth County area. In fact, the Casabella Interiors shop is just one of a few home good stores in southeast Boston. But what's more important is that we're an awarding-winning design shop with many happy clients in the South Shore community, Cape Cod and the greater Boston Harbor. There are about 18,000 residents in the town, and at least 5% have come to our store to buy linens, pillows, home furnishings, dining tables, draperies and rugs. We're a one-stop shopping destination. So whether you're looking for the finishing touches in a room, wall covering, a custom paint consultation, or a complete redesign like the Bradley's (details below) our extended team of plumbers, electricians, painters, and architects, take care of every detail. When you need expertise from the ground up, Casabella Interiors specializes in conceptualization, development, and on-site project management.
Pick any neighborhood in Scituate Harbor (near the lighthouse known as Old Scituate Light), and you will find that our design team has decorated at least one house on that block. For many reasons – including our creativity and professionalism – Casabella Interiors far exceeds our clients' expectation. Carol and Mark Bradley live in the harbor area with their three high school-aged children. They tell us often that they happily recommend us to anyone who needs an interior design team or just the finishing touches on their home. "When we walk into the Casabella Interiors shop, we enter another world. Everything is beautiful, inspiring, unique and expertly put together. The staff is knowledgeable and gracious, yet they give you the space to come up with your own ideas!" said Mrs. Carol Bradley.
Aligning With Scituate Professionals
Clients like the Bradley's enjoy the best of all worlds – and by design. Instead of hiring one designer with a specific sensibility, they get an entire design team working on their behalf—for the cost of just one. Michele Shannon, Beth, and Paula collaborate with other professionals who live and breathe interior design in Scituate and else where in Plymouth county. That means you can expect us to bring unexpected ideas to our discussions—from concepts to accessories. By playing to our strengths, we dream up innovative design solutions for Scituate homeowners and vacation homeowners. That's the not-so-secret way we take all of our big and small design projects to the next level. Our rich, layered interiors reflect our sophisticated East Coast aesthetic. Our clients love the way we blend classic elegance with modern comfort by mixing subtle textures, muted hues and distinctive high-style home décor items like lighting, rugs, fabrics, furniture, accessories, drapery, and art. We have 6,500 sq. feet of high-style home goods at the ready for our design team. It puts us in a great position to show up at your home in Scituate and completely transform it within hours.
As your comprehensive design resource, the Casabella Interiors staff will help you choose everything you need to make your Scituate house a home.
Areas Served
Norwell
Hingham
Westport
Wayland
Wellesley
Weston
Scituate
Cohasset
Duxbury
Plymouth
Pembroke
Humarock
Marion
Dartmouth
Mattapoisett
Padanaram
Osterville
Chatham
Wellfleet
Harwich
Harwich Port
Truro
Falmouth
Yarmouth
Yarmouth Port
New Seabury
Dennis
Dennis Port
Orleans
Mashpee
Hyannis Port