A well-cared for home is intentional. Every. Detail. Matters. Walking into a beautiful, professionally designed room is energizing. We can make tiny spaces feel spacious, and over-sized rooms feel cozy and inviting. We can bring high-style looks to even the most lacklustre places. And give a newly-built home a warm, familiar feel.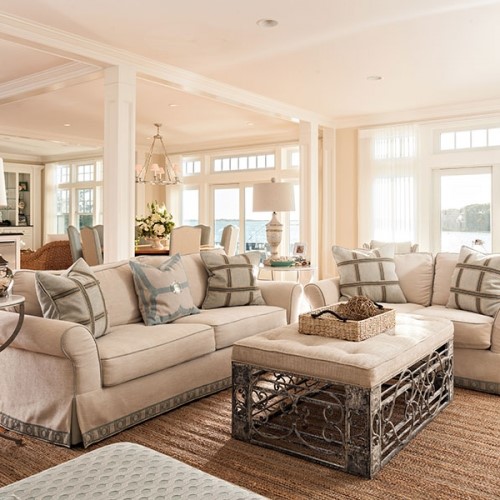 It all begins with inspiration. It's why every corner of our 2,500-foot showroom brims with a globally-curated mix of impossible to find furniture, accessories, lighting, rugs, fabrics, drapery, and art. It's also because of inspiration that our Studio came to be. From the day we first offered decorating services, we have been inspired to bring your long-loved design dreams to life. Our passion and desire grows with every project we do. (You can read more about that from our clients on our Testimonials page).
Casabella Interiors founder Michele Chagnon-Holbrook and her design team have the know-how to light up your home with sophisticated East Coast elegance. We're also experts at making the very most of your budget.
The Casabella Shop and Studio is located on the Cape, but we serve clients and customers throughout the East Coast, and beyond. From homeowners across the bridge (hello Boston, Humarock and Dartmouth) to busy execs in our own backyard, we make collaborating remotely easy and stress-free. Since Cape Cod is an iconic destination, many people from NYC and all points north and east, plan their trip around a visit to our award-winning shop. If you know you're going to be in our area, call ahead a few weeks 508-888-8688 so we can set aside an hour or so to learn more about you and your family.
In the meanwhile, take a peek at our portfolio – chances are we've done a project or two near your hometown.
Casabella Interiors in Dartmouth
Dartmouth is the third-largest town in Massachusetts in terms of land mass. It's a coastal New England town in Southeastern Massachusetts comprising historic coastal villages, vineyards, and farms. It's part of the Massachusetts South Coast. The northern part of Dartmouth is largely commercial. The waterways include Cornell Pond, Shingle Island River, and Paskamansett River. It has a thriving agricultural lineage with protected working farms and vineyards.
The southern part of Dartmouth borders Buzzards Bay, a prolific fishing and boating community. Off its coast, you can see Martha's Vineyard in the distance. For generations the town has been a thriving summer community with unique historic villages and stunning vistas with some of the most beautiful coastal real estate. In South Dartmouth, Nonquitt, Round Hill, Barney's Joy, and Mishaum Point makes up a large pockets of affluence. For year round residents, there are many seasonal activities.
Transforming Homes and Businesses in Dartmouth
Casabella Interiors serve homeowners and businesses in Dartmouth with all their design and decorating needs. Between our shop and design studio, we're a one-stop design destination in the business of turning houses into well-loved homes. For our commercial clientele, we design unique workspaces that are an inspiration to everyone who walks through the door. Our tagline is "Become Inspired". So on a conceptual level, you can say our business specialty is dreaming up innovative ideas that no one has thought of before, and bringing those visions to life.
It All Began In Dartmouth
About a decade ago, our founder and principal designer, Michele Chagnon Holbrook, and her husband purchased a summer residence in Dartmouth. They couldn't find furnishings that matched the style they loved—which is a sophisticated East Coast aesthetic. Everyone said they needed to leave the Cape to find what they were looking for. That led to an "aha moment" and a decision to open Casabella Interiors – a Cape Cod home furnishings shop with a city chic sensibility in the Dartmouth vacinity.
After years of exhaustive research around industry products, vendors, and the interior design market as a whole, Michele and her husband landed the perfect location, built out the Casabella Interiors store, and hired a great team, in 2011.
Casabella Interiors has been voted Best Shop for the Home from Cape Cod Life Magazine five years in a row, and #1 Readers' Choice Award for Best Home Decorating Store. We've also been selected as a 2014 American Express Member Favorite, and Best of Houzz Service in 2015 and 2016. Everyone at Casabella Interiors places a premium on surpassing expectations – and in the day to day that means everything from making Dartmouth customers feel welcome when they come to the store to providing a unique solution to a design issue to ensuring that their online experience at casabellainteriors.com is helpful and inspiring.
Design Services
Casabella Interiors is a one-stop destination for all big and small design projects in Dartmouth, so we're able to offer our customers and clients as much (or as little) help as they need creating luxurious living spaces that suit their lifestyle. Between our 2,500 shop, Casabella Interior design studio—where we have an entire design team working on our client's behalf for the cost of one designer—and our 4,000 sq. foot Marketplace, we're in a unique position to put the most coveted and inspiring design possibilities within our customers reach instantly. Michele personally curates and handpicks really hard to find furnishing and accessories from around the world– so it's super easy for homeowners from Dartmouth to walk in and discover unexpected finishing touches for every room in their house (we also offer a service where we stock our van, show up at our customers doorstop, and completely transform their homes within the space of a few hours). Also, our staff and design team are well informed and friendly so they're able to help our customers navigate our mix of furniture, accessories, lighting, rugs, fabrics, drapery, and art in a way that's fun and inspiring.
Areas Served
Norwell
Hingham
Westport
Wayland
Wellesley
Weston
Scituate
Cohasset
Duxbury
Plymouth
Pembroke
Humarock
Marion
Dartmouth
Mattapoisett
Padanaram
Osterville
Chatham
Wellfleet
Harwich
Harwich Port
Truro
Falmouth
Yarmouth
Yarmouth Port
New Seabury
Dennis
Dennis Port
Orleans
Mashpee
Hyannis Port