A well-cared for home is intentional. Every. Detail. Matters. Walking into a beautiful, professionally designed room is energizing. We can make tiny spaces feel spacious, and over-sized rooms feel cozy and inviting. We can bring high-style looks to even the most lacklustre places. And give a newly-built home a warm, familiar feel.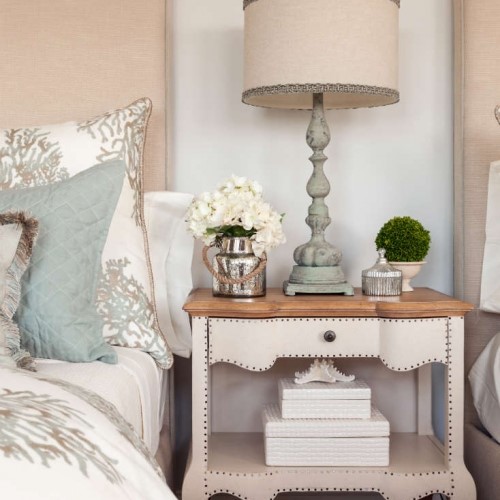 It all begins with inspiration. It's why every corner of our 2,500-foot showroom brims with a globally-curated mix of impossible to find furniture, accessories, lighting, rugs, fabrics, drapery, and art. It's also because of inspiration that our Studio came to be. From the day we first offered decorating services, we have been inspired to bring your long-loved design dreams to life. Our passion and desire grows with every project we do. (You can read more about that from our clients on our Testimonials page).
Casabella Interiors founder Michele Chagnon-Holbrook and her design team have the know-how to light up your New Seabury home with sophisticated East Coast elegance. We're also experts at making the very most of your budget.
The Casabella Shop and Studio is located on the Cape, but we serve clients and customers throughout the East Coast, and beyond. From homeowners across the bridge (hello Boston, Duxbury and Hingham) to busy execs in our own backyard, we make collaborating remotely easy and stress-free. Since Cape Cod is an iconic destination, many people from NYC and all points north and east, plan their trip around a visit to our award-winning shop. If you know you're going to be in our area, call ahead a few weeks 508-888-8688 so we can set aside an hour or so to learn more about you and your family.
In the meanwhile, take a peek at our portfolio – chances are we've done a project or two near your hometown.
Casabella Interiors in New Seabury
Inspired by the cottage neighborhoods of old Cape Cod, the community of New Seabury is a charming enclave of white cottages in a cozy neighborhood setting. A jewel to be discovered, vacationers flock here each summer to enjoy the waterfront golf, beaches, the coastal nature preserves, and other family-friendly destinations. For it's year-round residents, New Seabury offers homes of all styles – many situated on the beautiful Nantucket Sound. Many summer homeowners and primary residence homeowners turn to Casabella Interiors when they need to update their living spaces.
And since we're a full-service residential and commercial interior design firm, we offer unparalleled interior design solutions – supported by a tight-knit network of premier contractors and trade partners in New Seabury.
Michele and The Design Team
From new construction to remodeling and redecorating, founder Michele Chagnon Holbrook and her team create design strategies that fit every lifestyle and budget. We understand how to create trusting and personal relationships with each client – while offering them one-of-a-kind design solutions tailored just for them. We're invited into a client's most intimate space, so we make sure that our design delivers a finished product that reflects who they are at their core. When our New Seabury customers come to us, we are excited to create living spaces that are cozy, sophisticated and stunning and that complement the beautiful area we live in. Ultimately, we want to create the type of home our New Seabury clients never tire of returning to.
Designing spaces that are not only beautiful but also practical and timeless, Casabella Interiors help clients translate their style into a fresh design – whether casual, formal, eclectic or traditional. We're committed to helping you transform your New Seabury living spaces into your dream home.
Casabella Interiors is a true design destination – especially for new homeowner Patty Sherman of New Seabury, Mass. "I chose Casabella Interiors because of Michele's hands-on involvement. She's so creative and inspiring. I marvel at the rooms she created and can't believe it's my home! The best thing is that I have lots of choices of furniture, accessories, lighting, rugs, fabrics, drapery, and art. Nothing looks like it comes from a box store. Each piece they have is unique."
Interior Design For New Seabury Residents
In the Studio, Michele and her award-winning design team—Shannon Heritage, Beth Jenness and Paula Sweetman create distinctive and inspired spaces—ones that feel both familiar and comfortable. With their strict attention to detail and a personalized approach to design, Casabella Interiors balances function with refined designs to create distinctive interior environments. We do this by offering a comprehensive list of design services to New Seabury area residents – including:
• Custom Window Treatments
• Hunter Douglas Window Coverings
• Custom Upholstery
• Paint Color and Wall Covering Consultation
• Space Planning
• Furniture, Art and Accessory Selection
• Floor Covering and Area Rugs
Also, Casabella Interiors has deep project management experience in every phase of design. We facilitate the entire process, maximizing productivity and design efficiencies, so each project remains on schedule and on time. Also, many designers don't have our resources. Which means they drive up their fees by inflating retail prices and services. Because we have a showroom, marketplace, dedicated vendors, and an extended team of professional contractors, we're able to pass on reduced costs to New Seabury design and decorating clients.
Areas Served
Norwell
Hingham
Westport
Wayland
Wellesley
Weston
Scituate
Cohasset
Duxbury
Plymouth
Pembroke
Humarock
Marion
Dartmouth
Mattapoisett
Padanaram
Osterville
Chatham
Wellfleet
Harwich
Harwich Port
Truro
Falmouth
Yarmouth
Yarmouth Port
New Seabury
Dennis
Dennis Port
Orleans
Mashpee
Hyannis Port