A well-cared for home is intentional. Every. Detail. Matters. Walking into a beautiful, professionally designed room is energizing. We can make tiny spaces feel spacious, and over-sized rooms feel cozy and inviting. We can bring high-style looks to even the most lacklustre places. And give a newly-built home a warm, familiar feel.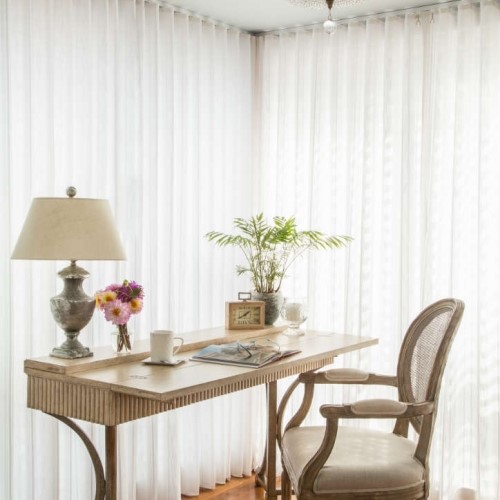 It all begins with inspiration. It's why every corner of our 2,500-foot showroom brims with a globally-curated mix of impossible to find furniture, accessories, lighting, rugs, fabrics, drapery, and art. It's also because of inspiration that our Studio came to be. From the day we first offered decorating services, we have been inspired to bring your long-loved design dreams to life. Our passion and desire grows with every project we do. (You can read more about that from our clients on our Testimonials page).
Casabella Interiors founder Michele Chagnon-Holbrook and her design team have the know-how to light up your home with sophisticated East Coast elegance. We're also experts at making the very most of your budget.
The Casabella Shop and Studio is located on the Cape, but we serve clients and customers throughout the East Coast, and beyond. From homeowners across the bridge (hello Boston, Norwell and Hingham) to busy execs in our own backyard, we make collaborating remotely easy and stress-free. Since Cape Cod is an iconic destination, many people from NYC and all points north and east, plan their trip around a visit to our award-winning shop. If you know you're going to be in our area, call ahead a few weeks 508-888-8688 so we can set aside an hour or so to learn more about you and your family.
In the meanwhile, take a peek at our portfolio – chances are we've done a project or two near your hometown.
More About Casabella Interiors
As the go-to destination for all your big and small design projects, Casabella Interiors shop and studio offer as much (or as little) help as you need creating luxurious, well-loved living spaces in Massachusetts. Homeowners love shopping for all things home at Casabella Interiors. From table settings and lights to rugs, furniture and fabric, Casabella Interiors has everything Norwell homeowners and summer residents need to beautify their homes.
Blending classic elegance with modern comfort, our award-winning design team creates rich, layered interiors for homeowners on Cape Cod and all points north and south using subtle textures and muted hues. From concepts to installation, the design studio specializes in entire houses, individual rooms, and commercial spaces.
Interior Design Clients in Norwell
Casabella Interiors serves many design clients in the town of Norwell – which happens to be a small community of 11,000 residents. Many of those residents are summer homeowners. One of our favorite clients Lucinda Majors hails from that area. Not long after Lucinda and her husband purchased their Norwell mansion, they hired Michele to reimagine their 10,000 square foot home. From the studs on up, Michele and her design team helped the couple completely renovate their home, which they live in with their two children.
Services Offered
The services we provided to the Majors included:
Showroom Consultation
Design & Master Planning
Sourcing & Purchasing
Home Couture Consultation
Project Management
Construction Phase Design
Home Redesign
Paint Color Consultation
Space Planning
Accessories
And other design packages specifically customized to a clients need's – like summer residents who live only part of their year in their home.
We estimate that about 35% of Norwell residents are vacation homeowners who live near the North River.
The Majors design project was one of the largest for Casabella Interiors. The two million dollar decorating budget was such an undertaking that they hired Casabella Interiors to manage the entire interiors decorating project.
Norwell, Massachusetts
The town of Norwell is located in Plymouth County south of Boston. It's is one of the loveliest towns in South County because it's situated along the North River. Originally settled in 1636, it's a picturesque town that encompasses present day Scituate and Norwell. It used to be a big shipbuilding hamlet. Many of our country's finest sailing vessels were created there – including the Columbia – which happens to be first American ship to circumnavigate the globe. The Town was named after Henry Norwell, a philanthropic storeowner and summer resident.
In addition to those Massachusetts homeowners, other areas Casabella Interiors serves are Cape Cod, Martha's Vineyard, Nantucket, Boston, the South Shore, New York and beyond.
We also serve commercial clients. Because we are a residential and a commercial interior design firm, we have a diverse of clients in the area. When it comes to commercial design, we believe your space should enhance your work and life experience. Michele and her design team make the process painless, easy and fun! Our services include all phases of interior design, implementation of the design, follow through with every detail and a lifetime relationship to help you as your design needs change over time.
Every one of our commercial design clients, including restaurants, stores, and real estate firms, have inspirational spaces to build their business in.
CASABELLA Interiors Design SHOWROOM Location
389 Route 6A, East Sandwich, MA 02537
We are open during the hours of: Monday-Saturday, 10:30am to 5pm Sunday, 12pm to 5pm
Private appointments are available.
Norwell, Massachusetts is only 15 miles from The Casabella Interiors store and design studio in East Sandwich.
Casabella Interiors Certifications and Awards
•Voted Best Shop for the Home from Cape Cod Life Magazine 5 years in a row and Best of Houzz Service Award in 2015
•#1 Readers' Choice Award for Best Home Decorating Store
•2014 American Express Member Favorite
•Best of Houzz 2015-2016
Areas Served
Norwell
Hingham
Westport
Wayland
Wellesley
Weston
Scituate
Cohasset
Duxbury
Plymouth
Pembroke
Humarock
Marion
Dartmouth
Mattapoisett
Padanaram
Osterville
Chatham
Wellfleet
Harwich
Harwich Port
Truro
Falmouth
Yarmouth
Yarmouth Port
New Seabury
Dennis
Dennis Port
Orleans
Mashpee
Hyannis Port