A well-cared for home is intentional. Every. Detail. Matters. Walking into a beautiful, professionally designed room is energizing. We can make tiny spaces feel spacious, and over-sized rooms feel cozy and inviting. We can bring high-style looks to even the most lacklustre places. And give a newly-built home a warm, familiar feel.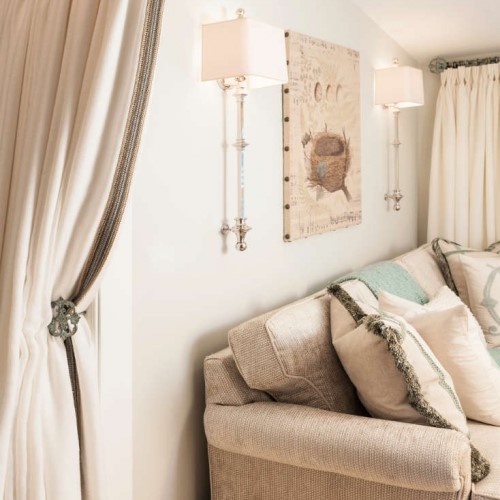 It all begins with inspiration. It's why every corner of our 2,500-foot showroom brims with a globally-curated mix of impossible to find furniture, accessories, lighting, rugs, fabrics, drapery, and art. It's also because of inspiration that our Studio came to be. From the day we first offered decorating services, we have been inspired to bring your long-loved design dreams to life. Our passion and desire grows with every project we do. (You can read more about that from our clients on our Testimonials page).
Casabella Interiors founder Michele Chagnon-Holbrook and her design team have the know-how to light up your home with sophisticated East Coast elegance. We're also experts at making the very most of your budget.
The Casabella Shop and Studio is located on the Cape, but we serve clients and customers throughout the East Coast, and beyond. From homeowners across the bridge (hello Boston, Plymouth and Pembroke) to busy execs in our own backyard, we make collaborating remotely easy and stress-free. Since Cape Cod is an iconic destination, many people from NYC and all points north and east, plan their trip around a visit to our award-winning shop. If you know you're going to be in our area, call ahead a few weeks 508-888-8688 so we can set aside an hour or so to learn more about you and your family.
In the meanwhile, take a peek at our portfolio – chances are we've done a project or two near your hometown.
Casabella Interiors in Pembroke
Pembroke Massachusetts is situated between Boston and the Cape Cod Canal in Plymouth. The town offers a truly wonderful quality of life and many styles of homes for those interested in moving there. For years, it was thought of as a recreational community, with the large number picturesque ponds, reservoirs and summer retreats on the North Riverfront. Many politicians visit each year to soak up the views of this private hamlet. As the community grows, the number of summer homes grows in number as well. Many of those second homeowners hire Casabella Interiors to put their own design style on their new houses. No matter how popular it gets, it still maintains its small town appeal. Between scenic roads, the trout fishing in Pembroke Herring Run, and The Landing on Wampatuck Street, you can see breathtaking sunsets at every turn. Casabella Interiors made their annual outing on the white sandy beaches and boat landings in the harbor.
Interior Design Clientele
Although Casabella Interiors serves high-end clientele in the $1,000,000 home dollar range, finding a quality starter home or condo in the low $200,000 range isn't impossible. New construction is plentiful in Pembroke, so we've worked with young professionals and Baby Boomers – who want to reinvent their summer homes into their main residence when they retire.
Marybeth Mills Muldowney, Realtor in Pembroke often recommends her new homeowners to Casabella Interiors. She's believes that when her clients are happy with the design of their homes, they often stay longer and have deeper connections to the community. One of the homeowners she recommended was Margaret Allen of Pembroke.
Margaret had a design background so she wasn't looking to hire anyone, but since she was busy launching her career, she was excited to find Casabella Interiors because we really understand new construction and design.
"They were so helpful finding fabulous pieces, and really capturing the essence of my vision. From accessories, artwork, accent furniture, wallpaper and other finishing touches to having pieces built and commissioned for me, they were really instrumental in pulling the whole home project in Pembroke together. We couldn't have asked for more thoughtful, inspirational, and professional partners – and I especially like that they respected my budget, timelines, and our taste," said Margaret.
For Margaret's new construction project in Pembroke, we were very hands-on, coordinating with painters, upholsterers, carpenters, and electricians, and really getting our hands in some of the more gritty details– which ultimately freed up Margaret's time and made the project much smoother for her.
The Initial Design Consultation
Margaret hired us for our In-home Couture Package. Going into our clients home is the first step in our design creation process, and the key to the successful implementation of our decorating plan. This new construction project in Pembroke included putting finishing touches on every individual room.
Initially, we used our two-hour consultation with Margaret to learn about her space, lifestyle, and budget. Before moving on to the planning stage of our process, we created an estimate for a retainer – based upon anticipated design hours. After Margaret retained us, we created a full-design plan —including floor plans, furnishings, lighting, paint recommendations, etc. When that was finished, we invited her to a complimentary design presentation at our shop – which was only 30 minutes from her home in Pembroke.
After she approved our design plan, our team worked in Pembroke on an hourly basis to create a timeline for products and professional services. We also procured products and generated custom work orders for the items she chose – including porcelain wood look flooring, accessories, artwork, furniture, wallpaper and other finishing touches like bed linens and pillows. Lastly, the final and most exciting phase of the Pembroke project was the installation. Our design team and professional crew were onsite to deliver, install, and expertly arrange everything in Margaret's home. Design implementation, delivery and installation were billed hourly. When the project was complete Margaret was thrilled with her last inch of her new home.
Areas Served
Norwell
Hingham
Westport
Wayland
Wellesley
Weston
Scituate
Cohasset
Duxbury
Plymouth
Pembroke
Humarock
Marion
Dartmouth
Mattapoisett
Padanaram
Osterville
Chatham
Wellfleet
Harwich
Harwich Port
Truro
Falmouth
Yarmouth
Yarmouth Port
New Seabury
Dennis
Dennis Port
Orleans
Mashpee
Hyannis Port