A well-cared for home is intentional. Every. Detail. Matters. Walking into a beautiful, professionally designed room is energizing. We can make tiny spaces feel spacious, and over-sized rooms feel cozy and inviting. We can bring high-style looks to even the most lacklustre places. And give a newly-built home a warm, familiar feel.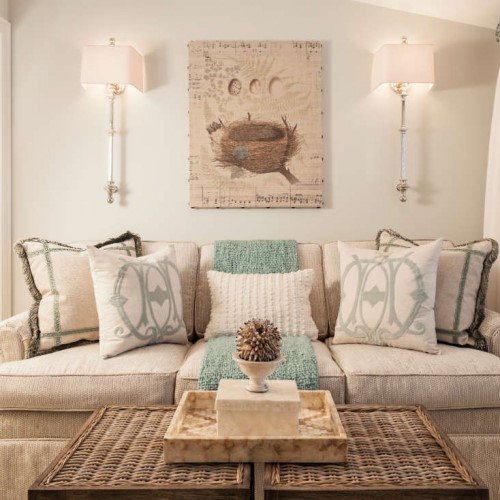 It all begins with inspiration. It's why every corner of our 2,500-foot showroom brims with a globally-curated mix of impossible to find furniture, accessories, lighting, rugs, fabrics, drapery, and art. It's also because of inspiration that our Studio came to be. From the day we first offered decorating services, we have been inspired to bring your long-loved design dreams to life. Our passion and desire grows with every project we do. (You can read more about that from our clients on our Testimonials page).
Casabella Interiors founder Michele Chagnon-Holbrook and her design team have the know-how to light up your home with sophisticated East Coast elegance. We're also experts at making the very most of your budget.
The Casabella Shop and Studio is located on the Cape, but we serve clients and customers throughout the East Coast, and beyond. From homeowners across the bridge (hello Boston, Humarock and Marion) to busy execs in our own backyard, we make collaborating remotely easy and stress-free. Since Cape Cod is an iconic destination, many people from NYC and all points north and east, plan their trip around a visit to our award-winning shop. If you know you're going to be in our area, call ahead a few weeks 508-888-8688 so we can set aside an hour or so to learn more about you and your family.
In the meanwhile, take a peek at our portfolio – chances are we've done a project or two near your hometown.
Casabella Interiors in Marion
Marion is a small coastal hamlet located in Massachusetts. There are 5,048 residents and just one neighborhood. Housing costs in Marion are among some of the highest in the nation, it's a white-collar town of professionals- many who work in management. It's also a town known for its artist population.
The town has more artists, designers and people working in media than 90% of the communities in America. This concentration of artists helps shape the town's character. This family-friendly town has an enviable combination of good schools, low crime, college-educated neighbors. It has a high rate of home ownership and single-family properties. It's the ideal place for families who are looking for a dynamic community to raise their children.
A Chance Meeting Turns Into A Full-House Renovation
To homeowners with families in Marion like the Russells, hiring the Casabella Interiors design team was a matter of luck. Joey Russell said, "One day after moving to the area, we went for a drive along 6A in East Sandwich and passed the Casabella Interiors shop. Thankfully we turned our car around and went in. We met Michele and her team and they were very inviting and friendly. What started out as a small entryway decorating project soon became a full-house renovation. I would say that in any type of design project there are so many decisions to make. The Casabella team will take the time to understand your vision, really listen to you, and in a non-forceful way take the burden off your plate. They'll present you with the most amazing things – pieces you will love. Nothing they show you is mediocre. Needless to say, Casabella Interiors is now part of our family. We have recommended many people in Marion to them."
The Casabella Interiors shop is a store and design studio in one. For clients in Marion like the Russells, we offer comprehensive resources for all things home – including area rugs, furniture, accents, lighting, fabrics, drapery, wall art, flooring, and fixtures. Our shop doubles as a showroom – and it's is only 20 miles from Marion. Casabella Interiors is decorated with the latest design ideas and inspiration to show our clients in Marion what's possible for their own spaces. We offer home goods for the modern home, as well as tradition pieces for conservative home in an expansive range of home decorating categories.
Casabella Interiors Luxury Home Décor
We also carry the Casabella Interiors label on many of our luxurious home décor items – which are very popular with Marion second homeowners who don't want to pull things they love from their primary residence.
We support our design studio with a huge Marketplace – which we stock with our favorite home decorating treasures. And because we have decades of experience in the design, build, and remodeling process, Casabella Interiors is the preferred choice for builders and architects in Marion and the Boston, Cape Cod region.
Casabella Interiors works with professional partners so when you hire us to take on a design project for your space in Marion, we make the process worry- and hassle-free. We're also very mindful of tight budgets and strict timelines.
Interior Design Services
We collaborate with clients, architects, and builders in Marion to:
• Evaluate CAD drawings
• Execute the management of your design project
• Design furniture placement
• Create the cabinetry layout in your bathroom and kitchen
• Find flooring, plumbing and light fixtures best for your lifestyle
• Help you decide on a color palette
• Assist you in picking out the most compelling accessories for your space
Areas Served
Norwell
Hingham
Westport
Wayland
Wellesley
Weston
Scituate
Cohasset
Duxbury
Plymouth
Pembroke
Humarock
Marion
Dartmouth
Mattapoisett
Padanaram
Osterville
Chatham
Wellfleet
Harwich
Harwich Port
Truro
Falmouth
Yarmouth
Yarmouth Port
New Seabury
Dennis
Dennis Port
Orleans
Mashpee
Hyannis Port