A well-cared for home is intentional. Every. Detail. Matters. Walking into a beautiful, professionally designed room is energizing. We can make tiny spaces feel spacious, and over-sized rooms feel cozy and inviting. We can bring high-style looks to even the most lacklustre places. And give a newly-built home a warm, familiar feel.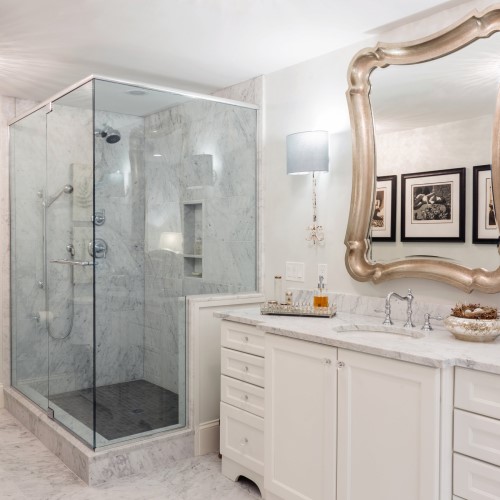 It all begins with inspiration. It's why every corner of our 2,500-foot showroom brims with a globally-curated mix of impossible to find furniture, accessories, lighting, rugs, fabrics, drapery, and art. It's also because of inspiration that our Studio came to be. From the day we first offered decorating services, we have been inspired to bring your long-loved design dreams to life. Our passion and desire grows with every project we do. (You can read more about that from our clients on our Testimonials page).
Casabella Interiors founder Michele Chagnon-Holbrook and her design team have the know-how to light up your Wellfleet home with sophisticated East Coast elegance. We're also experts at making the very most of your budget.
The Casabella Shop and Studio is located on the Cape, but we serve clients and customers throughout the East Coast, and beyond. From homeowners across the bridge (hello Boston, Duxbury and Hingham) to busy execs in our own backyard, we make collaborating remotely easy and stress-free. Since Cape Cod is an iconic destination, many people from NYC and all points north and east, plan their trip around a visit to our award-winning shop. If you know you're going to be in our area, call ahead a few weeks 508-888-8688 so we can set aside an hour or so to learn more about you and your family.
In the meanwhile, take a peek at our portfolio – chances are we've done a project or two near your hometown.
Casabella Interiors in Wellfleet
Casabella Interiors, the full-service interior design boutique founded by shop-owner-turned-interior-designer, Michele Chagnon-Holbrook, has captured the attention of stylish East Coasters like Wellfleet residents since 2011. We bring a wealth of experience to homeowners in Boston and Cape Cod, and we're passionate about offering outstanding personalized service. Our award-winning design team is recognized for creating sophisticated interiors, and for filtering design through our client's eyes.
The gallery of our work reflects the Wellfleet lifestyle – and you'll find everything from laid-back luxury to high style traditional to industrial chic. And because we have extensive experience in the design, build, and remodeling process, we're the preferred choice for builders and architects in Wellfleet. We work seamlessly with our professional partners, making the entire design process fun, cost-efficient and inspiring.
The Shop
Our boutique is filled with stunning one-of-a-kind home accents, accessories, lighting, rugs, fabrics, artwork, furniture, and gifts. One Wellfleet client often says she's ready to leave her husband and move in. Whether it's pieces we've coveted forever, or fabulous new finds, many of our Wellfleet clients hire us for finishing touches only. No matter the size of your project, Casabella Interiors is happy to help you handpick the best products for your space.
Your Interior Design Consultation
For those seeking more help from the Casabella Interiors design team, we'll use our two-hour design consultation to learn about you and your space. We'll also work within your budget. After we return to our studio with notes, measurements, and photos, we begin concepting ideas customized for your space and taste. Once that process is complete, the inspiration phase of our collaboration begins. Our designers check their initial concepts – for furnishings, fabric, rugs lighting and accessories for each room/space – against product availability and dimensions – and then invite you to a presentation.
Our comprehensive design plan maps out details of the project – including scaled drawings of furniture placement, paint chips, fabric swatches, floor samples, electrical plans – and more.
When you need expertise from the ground up, Casabella Interiors specializes in conceptualization, development, and on-site project management. As your one-stop design resource, our design team will help you choose everything you need to make your Wellfleet house a home. What's more, we're always present during installation so you don't need to be.
Affordable Interior Design For Wellfleet Clients
Whether you're moving into a new Wellfleet home, or revamping your existing one, our design team has a wealth of experience creating beautiful, inspired livable spaces. Our new Wellfleet clients are always surprised by how quickly we can transform your space. Nothing transforms a room faster than new color. With careful consideration for your home's architecture and lifestyle, our designers work with you to create a brilliant color scheme. We'll also create custom layouts, sketch furniture placement, and draw a grid for custom cabinetry. From flooring to lighting to fixtures, we make sure your approved design is put into action in the savviest way possible.
If you're a first-time Wellfleet homeowner on a limited budget, it's easy to get intimidated by interior design shops and studios. The good news is that you don't need an exorbitant budget to make your home look beautiful. You can decorate your home in stages. And we can help you decide where to start, what the best paint colors are, and which pieces in your home serve as signature anchors for your style. In other words, we'll work with you to find a pace, a budget, and a design that reflects your lifestyle. If this sounds like you, let's discuss ideas for your next design project.
Areas Served
Norwell
Hingham
Westport
Wayland
Wellesley
Weston
Scituate
Cohasset
Duxbury
Plymouth
Pembroke
Humarock
Marion
Dartmouth
Mattapoisett
Padanaram
Osterville
Chatham
Wellfleet
Harwich
Harwich Port
Truro
Falmouth
Yarmouth
Yarmouth Port
New Seabury
Dennis
Dennis Port
Orleans
Mashpee
Hyannis Port