A well-cared for home is intentional. Every. Detail. Matters. Walking into a beautiful, professionally designed room is energizing. We can make tiny spaces feel spacious, and over-sized rooms feel cozy and inviting. We can bring high-style looks to even the most lacklustre places. And give a newly-built home a warm, familiar feel.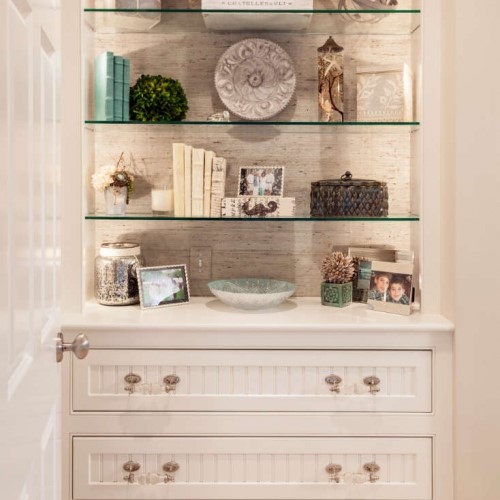 It all begins with inspiration. It's why every corner of our 2,500-foot showroom brims with a globally-curated mix of impossible to find furniture, accessories, lighting, rugs, fabrics, drapery, and art. It's also because of inspiration that our Studio came to be. From the day we first offered decorating services, we have been inspired to bring your long-loved design dreams to life. Our passion and desire grows with every project we do. (You can read more about that from our clients on our Testimonials page).
Casabella Interiors founder Michele Chagnon-Holbrook and her design team have the know-how to light up your home with sophisticated East Coast elegance. We're also experts at making the very most of your budget.
The Casabella Shop and Studio is located on the Cape, but we serve clients and customers throughout the East Coast, and beyond. From homeowners across the bridge (hello Boston, Westport and Hingham) to busy execs in our own backyard, we make collaborating remotely easy and stress-free. Since Cape Cod is an iconic destination, many people from NYC and all points north and east, plan their trip around a visit to our award-winning shop. If you know you're going to be in our area, call ahead a few weeks 508-888-8688 so we can set aside an hour or so to learn more about you and your family.
In the meanwhile, take a peek at our portfolio – chances are we've done a project or two near your hometown.
Casabella Interiors in Westport
For the sixth year in a row, readers of Cape Cod Life Magazine have voted Casabella Interiors Cape Cod's "Best Shop for the Home."
Westport is a town in Bristol County, Massachusetts. The Casabella Interiors shop inspires many of homeowners with their unique collection of fine home furnishings – all arranged in stunning vignettes. Design clients and home goods customers' jaws drop open when they enter the Casabella Interiors shop. Customers can't believe the variety of furniture and accessories we have on hand, and they're completely awestruck by how beautifully everything is displayed. At Casabella Interiors, our goal is to inspire the inner designer in each one of our Westport customers, and I see our vignettes succeed in doing that every day.
There are 5,000 summer residents and vacation homeowners in Westport, and we couldn't be happier that they consider our shop the best in the entire region. As for design and in-home decorating services, Casabella Interiors serves many clients in the five historic villages or areas of the town – including North Westport, The Point where Main Road meets the river Central Village with town offices, retail stores and businesses; and Acoaxet and the Harbor – which is between the west branch of the river and Rhode Island.
Full-Service Interior Design in Westport, MA
Casabella Interiors has a deep commitment to customer service and we go to great lengths to make sure our decorating and design clients and home furnishing customers are happy with our service. Whether a customer needs to furnish an entire house, update a single room or simply find the perfect hostess gift, we're here to help. Casabella Interiors features a full-service interior design studio offering direct access to not only professional design expertise, but also thousands of vendors for home furnishings, fabrics, lighting, fabric area rugs, beds, nightstands, dining tables, accessories and more. We've expanded our collection of furniture and accessories to 3,000 sq. ft of new showroom space in Bourne – which is 15 miles from Westport!
As your one-stop destination for all your interior design needs, Casabella Interiors offers the following services to our Massachusetts clients:
Home Redesign
Home Couture
Decorating Consultation
Project Management
Construction Phase Design
Paint Color Consultation
Space Planning
Home Accessories
Showroom Consultation
Design & Master Planning
Product Sourcing & Purchasing
In-Home Couture Package
Nothing takes the place of an in-home visit. It's the first step in our Casabella Interiors design creation process, and the key to the successful implementation of our design plan for our homeowners.
Whether we're working on a top-to-bottom renovation in a vacation home or just putting finishing touches on an individual room, our extended team of top-rated professionals – including painters, upholsterers, carpenters, and electricians, ensure a worry-free process.
Step One
From design direction to scale and scope, Casabella Interiors uses our two-hour consultation to learn about your space, your lifestyle, and your budget. Before moving on to the planning stage of our process, we'll create an estimate for a retainer – based upon anticipated design hours.
Step Two
After retaining us, Casabella Interiors creates a full-design plan – including floor plans, furnishings, lighting, paint recommendations, etc. When it's complete, we'll invite our clients to a complimentary design presentation at the shop.
Step Three
After you approve our design plan, our team works on an hourly basis to create a timeline for products and professional services. Casabella Interiors also procure products and generate custom work orders.
Step Four
The final and most exciting phase of your project is the installation. Our Casabella Interiors design team and professional crew are onsite in Westport to deliver, install, and expertly arrange everything.
Design implementation, delivery and installation are billed hourly and vary based upon the scope of the Westport project.
Accessorizing
With our professional know-how, we'll mix, match, and layer the perfect textures and patterns for your space, and make these final pieces look like they were curated over time. We offer traditional and trend-setting accessories—all impossible to find— from vendors we believe are the best of the best across a wide range of categories. We treasure all the pieces we offer not just because they have our luxurious East Coast aesthetic—but also because we know that they can elevate the way you live in Westport – within moments. Each of our found objects has a story, and they are all curated and handpicked by founder and principal designer Michele Chagnon-Holbrook. In addition to product costs, we charge a flat fee for this service. If you're a homeowner, please contact us for a design quote.
The Shop
Between our shop and our marketplace, we have 6,500 square feet of beautiful home accents and accessories at our fingertips. It puts us in a unique position to show up at your doorstep with our Casabella Interiors design team, and our favorite finishing touches, and completely transform your space within hours. So whether you're looking for ultra modern pillows, rugs, and artwork for your family room, or transitional lamps, linens and picture frames for your master suite, we have all the sophisticated creature comforts that transform your house into a cozy home… instantly.
Areas Served
Norwell
Hingham
Westport
Wayland
Wellesley
Weston
Scituate
Cohasset
Duxbury
Plymouth
Pembroke
Humarock
Marion
Dartmouth
Mattapoisett
Padanaram
Osterville
Chatham
Wellfleet
Harwich
Harwich Port
Truro
Falmouth
Yarmouth
Yarmouth Port
New Seabury
Dennis
Dennis Port
Orleans
Mashpee
Hyannis Port