A well-cared for home is intentional. Every. Detail. Matters. Walking into a beautiful, professionally designed room is energizing. We can make tiny spaces feel spacious, and over-sized rooms feel cozy and inviting. We can bring high-style looks to even the most lacklustre places. And give a newly-built home a warm, familiar feel.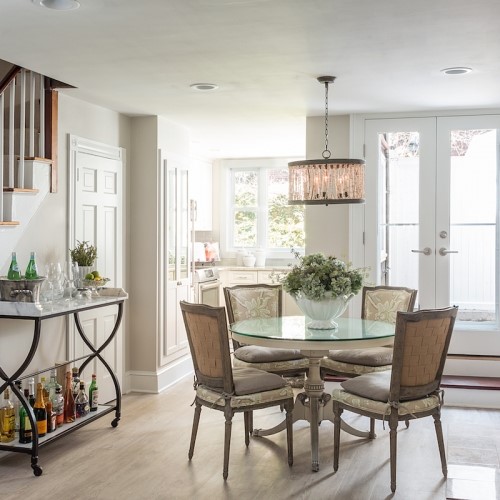 It all begins with inspiration. It's why every corner of our 2,500-foot showroom brims with a globally-curated mix of impossible to find furniture, accessories, lighting, rugs, fabrics, drapery, and art. It's also because of inspiration that our Studio came to be. From the day we first offered decorating services, we have been inspired to bring your long-loved design dreams to life. Our passion and desire grows with every project we do. (You can read more about that from our clients on our Testimonials page).
Casabella Interiors founder Michele Chagnon-Holbrook and her design team have the know-how to light up your Falmouth home with sophisticated East Coast elegance. We're also experts at making the very most of your budget.
The Casabella Shop and Studio is located on the Cape, but we serve clients and customers throughout the East Coast, and beyond. From homeowners across the bridge (hello Boston, Duxbury and Hingham) to busy execs in our own backyard, we make collaborating remotely easy and stress-free. Since Cape Cod is an iconic destination, many people from NYC and all points north and east, plan their trip around a visit to our award-winning shop. If you know you're going to be in our area, call ahead a few weeks 508-888-8688 so we can set aside an hour or so to learn more about you and your family.
In the meanwhile, take a peek at our portfolio – chances are we've done a project or two near your hometown.
Casabella Interiors in Falmouth
Falmouth is located in the southwestern part of Cape Cod and includes the villages of Woods Hole, Waquoit, Hatchville & Teaticket. Falmouth is an ideal base for daytrippers as its very close to Martha's Vineyard, Newport, Rhode Island, Plymouth, Boston, Provincetown and Nantucket. It's a short drive to Casabella Interiors on Route 6A – which is also named Old King's Highway, the largest designated historic district in the nation. Plymouth, Newport, New Bedford and Boston and Providence are all a short drive away.
One-time resident Katharine Lee Bates was the author of "America the Beautiful." The town also played an important role in discovering the Titanic. Falmouth has eight villages and seven historic districts, so there's always something for visitors to do. There are many sun-drenched beaches for vacationers to enjoy and a favorite pastime is taking a leisurely stroll along their picture-perfect Main Street.
Interior Design Services For Falmouth Residents
Casabella Interiors is a full service Interior Design firm. Our services – which are tailored to our client's needs— include all aspects of the design process, including:
• Upholstery – custom pieces or existing furniture updates
• Space Planning
• Interior Layout and decorating
• Open floor plan design
• Residential Concepting
• Ground-up New Construction
• Commercial layout, functionality, and accessibility
• Purchasing & Work Orders
• Installation – Electrical, Plumbing, Hardware, Drapes, Flooring
• Paint Consultation
Décor And Furniture Shop For Inspiration
For Falmouth clients not in need of full service interior design, the Casabella Interiors store is a one-stop design and decorating resource. Our showroom features a custom mix of furniture, chandeliers, lamps, flooring, rugs, accessories, fabrics, drapery, and contemporary and traditional artwork. We also work alongside custom builders to commission pieces for your unique space. We take a sophisticated stylistic approach to rearranging and complementing your existing décor and furniture. Looking to pull an existing room together? Or interested in reupholstering existing furnishings? Or perhaps you want to upgrade your window treatments? The Casabella Interiors design team is here to help you make big and small improvements in your Falmouth home. Together we'll analyze how you currently use the space and talk about your future plans.
Commercial Interior Design in Falmouth
We also have commercial clients in the Falmouth area. We help restaurant, hotels, office buildings and assisted living businesses with layouts, functionality, and accessibility. Together, we design unique workspaces that are forward-looking, solution-oriented, and inspiring. We take care of all the nuanced details that everyone who does business with you that you're invested in their experience.
Many of our Falmouth clients engage us for a specific design services – including choosing new accessories to quickly update their space, selecting paint colors or rearranging the flow of traffic in family rooms. For more in depth projects, Casabella Interiors uses a retainer – which is refundable towards your inventory purchases.
Casabella Interiors' Falmouth customers are encouraged to stop by with photos of spaces that need professional attention. We can help you find a new dining table, get your bedroom furniture reupholstered, or bring fresh new idea for your guest rooms. Our friendly staff will help you find the perfect home goods selections –whether you email us or stop into our store in-person.
Areas Served
Norwell
Hingham
Westport
Wayland
Wellesley
Weston
Scituate
Cohasset
Duxbury
Plymouth
Pembroke
Humarock
Marion
Dartmouth
Mattapoisett
Padanaram
Osterville
Chatham
Wellfleet
Harwich
Harwich Port
Truro
Falmouth
Yarmouth
Yarmouth Port
New Seabury
Dennis
Dennis Port
Orleans
Mashpee
Hyannis Port