A well-cared for home is intentional. Every. Detail. Matters. Walking into a beautiful, professionally designed room is energizing. We can make tiny spaces feel spacious, and over-sized rooms feel cozy and inviting. We can bring high-style looks to even the most lacklustre places. And give a newly-built home a warm, familiar feel.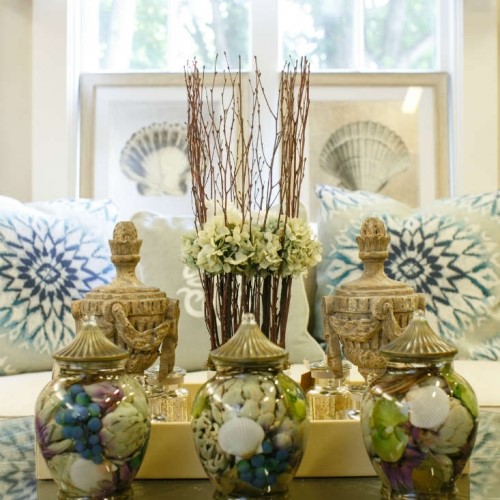 It all begins with inspiration. It's why every corner of our 2,500-foot showroom brims with a globally-curated mix of impossible to find furniture, accessories, lighting, rugs, fabrics, drapery, and art. It's also because of inspiration that our Studio came to be. From the day we first offered decorating services, we have been inspired to bring your long-loved design dreams to life. Our passion and desire grows with every project we do. (You can read more about that from our clients on our Testimonials page).
Casabella Interiors founder Michele Chagnon-Holbrook and her design team have the know-how to light up your home with sophisticated East Coast elegance. We're also experts at making the very most of your budget.
The Casabella Shop and Studio is located on the Cape, but we serve clients and customers throughout the East Coast, and beyond. From homeowners across the bridge (hello Boston, Humarock and Padanaram) to busy execs in our own backyard, we make collaborating remotely easy and stress-free. Since Cape Cod is an iconic destination, many people from NYC and all points north and east, plan their trip around a visit to our award-winning shop. If you know you're going to be in our area, call ahead a few weeks 508-888-8688 so we can set aside an hour or so to learn more about you and your family.
In the meanwhile, take a peek at our portfolio – chances are we've done a project or two near your hometown.
Casabella Interiors in Padanaram
Many homeowners in Padanaram call the Casabella Interiors Store "The Shop Around the Corner" because it has a warm cozy neighborhood feel, and because the staff is helpful and friendly. A great percentage of the town's 5,000 residents shop with us because they know we've been voted Best Shop for the Home by Cape Coders for five years running. They also know they can find unique furnishings and decorating items – including finishing touches for every style home. We feature trendy things for the home–including high-end fabrics, drapery, furniture, accessories, lighting, rugs, and artwork. With so many stunning and appealing home decor possibilities, homeowners in Padanaram don't mind the drive to our Casabella Interiors shop at all.
Padanarum, MA
Padanaram is a coastal haven where life is considered slow. It features a charming village situated along the Apponagansett River. A one-time shipbuilding center with a thriving harbor, Padanaram is home to the New Bedford Yacht Club, which hosts the Buzzards Bay Regatta. It's a lovely place to walk and enjoy the harbor – especially in the summer months when it's busy. Padanaram is part of the South Coast – which has a unique rich history, and many beautiful places to discover.
Client Story
One year-round homeowner in Padanarum hired Casabella Interiors for a commercial project. Cory Sedgewick of Padanaram explains, "My business partners and I were in the process of creating a 100-seat restaurant in Padararum when we stopped into Casabella Interiors looking for help with the project. As soon as we walked in, we fell in love with their beautiful East Coast aesthetic. Their unique one of a kind pieces had a sophisticated edge – items we had been looking so hard for. While we were there, we met the owner Michele and Shannon and explained our concept — which was an open floor plan where our guests could see our chefs cooking while they ate. What we love about Michele and her team is that they are hands-on. They coordinated with contractors in Padanaram and really handled all these minute details – which freed up our day and made the project run smoothly for everyone involved. We commissioned Casabella Interiors to do many pieces in the space and they brought a creative spin to our vision. They did our granite flooring, custom shelves made of sustainable bamboo, custom paint, unique mirrors that make the space look expansive. We found them to be thoughtful, inspirational, and professional partners who respected our budget, timelines, and our tastes. Part of what makes Casabella Interiors successful is that they are really invested in their Padanarum design clients. They take their craft very seriously, but at the same time they are fun to work with. Casabella Interiors really care about pleasing their clients and delivering a beautiful end product. The space came out better than we ever imagined."
Interior Design Services
Many of our residential clients from Padanarum choose us because our service includes turn-key installation. As soon as we are retained, Casabella Interiors manages all the details of the project – from early design concepts to the finishing details/ home decorating accents. It gives our Padanarum customers freedom to focus on what matters to them and have fun with the decorating process. Other services Casabella Interiors offers its clients in Padanaram include:
• Showroom Consultation
• Conceptual Design Package
• Space Planning
• Construction Phase Design
• In-Home Redesign
• Paint Color Consultation
• Accessorizing
Areas Served
Norwell
Hingham
Westport
Wayland
Wellesley
Weston
Scituate
Cohasset
Duxbury
Plymouth
Pembroke
Humarock
Marion
Dartmouth
Mattapoisett
Padanaram
Osterville
Chatham
Wellfleet
Harwich
Harwich Port
Truro
Falmouth
Yarmouth
Yarmouth Port
New Seabury
Dennis
Dennis Port
Orleans
Mashpee
Hyannis Port