A well-cared for home is intentional. Every. Detail. Matters. Walking into a beautiful, professionally designed room is energizing. We can make tiny spaces feel spacious, and over-sized rooms feel cozy and inviting. We can bring high-style looks to even the most lacklustre places. And give a newly-built home a warm, familiar feel.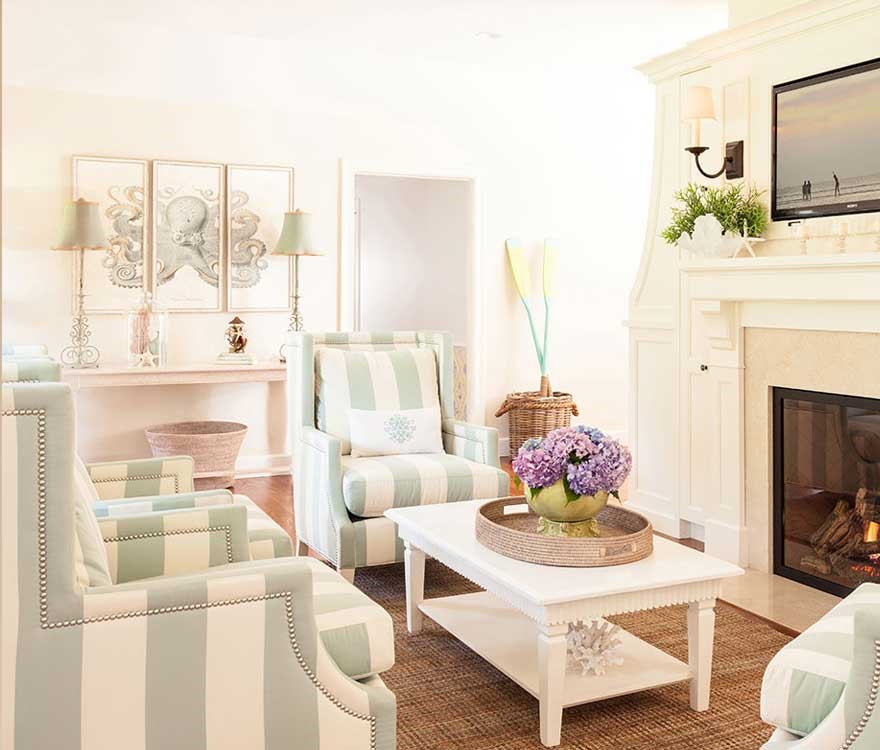 It all begins with inspiration. It's why every corner of our 2,500-foot showroom brims with a globally-curated mix of impossible to find furniture, accessories, lighting, rugs, fabrics, drapery, and art. It's also because of inspiration that our Studio came to be. From the day we first offered decorating services, we have been inspired to bring your long-loved design dreams to life. Our passion and desire grows with every project we do. (You can read more about that from our clients on our Testimonials page).
Casabella Interiors founder Michele Chagnon-Holbrook and her design team have the know-how to light up your Harwich home with sophisticated East Coast elegance. We're also experts at making the very most of your budget.
The Casabella Shop and Studio is located on the Cape, but we serve clients and customers throughout the East Coast, and beyond. From homeowners across the bridge (hello Boston, Duxbury and Hingham) to busy execs in our own backyard, we make collaborating remotely easy and stress-free. Since Cape Cod is an iconic destination, many people from NYC and all points north and east, plan their trip around a visit to our award-winning shop. If you know you're going to be in our area, call ahead a few weeks 508-888-8688 so we can set aside an hour or so to learn more about you and your family.
In the meanwhile, take a peek at our portfolio – chances are we've done a project or two near your hometown.
Casabella Interiors in Harwich
No one knows how she does it, but Becky Richards of Harwich, Mass has a sense – and an ease about all things home-related. From her transitional finds to her eye for spotting sales, she has an uncanny ability to know what works best for her home. But she's not a professional designer like Michele Holbrook of Casabella Interiors. Becky wouldn't dream of shopping without Michele, even though she has a great eye. "Michele knows what's on your dream board, and she also knows how to create the best layout of furniture in your home. She'll work with your builder on your redesign and your new floor plan. She's happy to put her experience to good use when helping her Harwich clients find creative solutions for their homes. With both an aesthetic and utilitarian focus, she knows the importance of intertwining design and function so that they work for busy Harwich families," said Becky to the Cape Cod Chronicle recently.
She continued: "Michele and her design team will put you at ease because they are invested in styling your home to perfection. Casabella Interiors has big and little treasures that make a house feel like a very personal home.
A much more chic, non-intimidating version of Martha Stewart, Michele is the one person you trust completely to keep you clued into what's new now in decorating and design. She knows where to spend and where to save, how to use the latest innovations to organize each room, and which brands are worth your loyalty. She's also the Harwich designer who knows the up-and-coming international home goods brands before they become stateside bestsellers."
From adding seasonal updates to her home to hunting down the best table for the kitchen, Becky has been working with the Casabella Interiors design team on a regular basis since purchasing a fixer-upper in Harwich last May. Becky's next decorating project is just around the bend, and Michele is always there to help.
Everything You Need For Redecorating Your Second Home
When it comes to the art of entertaining, Michele has everything in the Casabella Interiors shop to create a festive table. And when the summer rolls around in Harwich, MA, the quiet resort town becomes a hub of activity. Harwich is an upscale community located on the south side of the Cape peninsula, with an expansive shoreline on Nantucket Sound. There are approximately 12,677 year-round residents – which increases to 37,000 in the summer months. For second homeowners like Becky, it's the busiest time of the year. During a recent visit to Casabella Interiors, she purchased high quality furnishings, bookshelves, luscious fabrics, and stylish pillows and linens. She's also hired Michele to help with her master bedroom and guestroom renovation: from paint consultation to project management, Casabella Interiors design studio will be guiding each step of the new construction in Harwich.
Harwich Interior Design Consultations
Many Harwich residents set up a time to meet with Michele Chagnon-Holbrook to discuss their home's interior design needs. With a staff of three designers, well-known vendors, and a spacious warehouse – complete with inspirational and carefully curated home goods and bedding, Casabella Interiors has something for everyone.
Our tagline at Casabella Interiors is 'become inspired.' We want Harwich homeowners to come into our design shop and studio and just say, "We're so excited to find plush furniture, armoires and end tables, lamps, artwork, luxurious linens and tabletop items, so close by on Route 6A."
Areas Served
Norwell
Hingham
Westport
Wayland
Wellesley
Weston
Scituate
Cohasset
Duxbury
Plymouth
Pembroke
Humarock
Marion
Dartmouth
Mattapoisett
Padanaram
Osterville
Chatham
Wellfleet
Harwich
Harwich Port
Truro
Falmouth
Yarmouth
Yarmouth Port
New Seabury
Dennis
Dennis Port
Orleans
Mashpee
Hyannis Port