A well-cared for home is intentional. Every. Detail. Matters. Walking into a beautiful, professionally designed room is energizing. We can make tiny spaces feel spacious, and over-sized rooms feel cozy and inviting. We can bring high-style looks to even the most lacklustre places. And give a newly-built home a warm, familiar feel.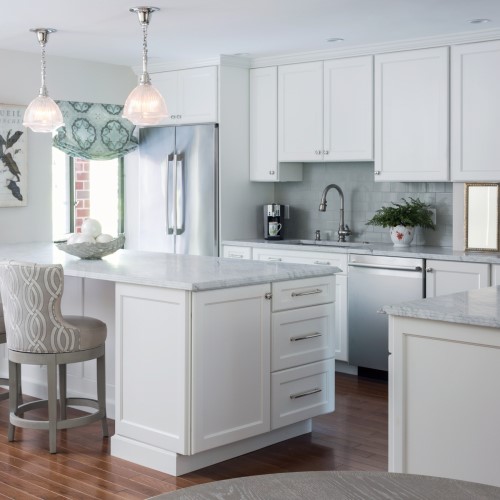 It all begins with inspiration. It's why every corner of our 2,500-foot showroom brims with a globally-curated mix of impossible to find furniture, accessories, lighting, rugs, fabrics, drapery, and art. It's also because of inspiration that our Studio came to be. From the day we first offered decorating services, we have been inspired to bring your long-loved design dreams to life. Our passion and desire grows with every project we do. (You can read more about that from our clients on our Testimonials page).
Casabella Interiors founder Michele Chagnon-Holbrook and her design team have the know-how to light up your home with sophisticated East Coast elegance. We're also experts at making the very most of your budget.
The Casabella Shop and Studio is located on the Cape, but we serve clients and customers throughout the East Coast, and beyond. From homeowners across the bridge (hello Boston, Humarock and Pembroke) to busy execs in our own backyard, we make collaborating remotely easy and stress-free. Since Cape Cod is an iconic destination, many people from NYC and all points north and east, plan their trip around a visit to our award-winning shop. If you know you're going to be in our area, call ahead a few weeks 508-888-8688 so we can set aside an hour or so to learn more about you and your family.
In the meanwhile, take a peek at our portfolio – chances are we've done a project or two near your hometown.
Casabella Interiors in Humarock
Humarock offers its homeowners and vacation homeowners many fabulous local events and attractions. It's a unique destination for anyone looking for great restaurants, artisan shops, golfing, boating or just relaxing on the beach all year round. Known as the Irish Riviera, this quaint village with easy access to the Boston Commuter Rail is the perfect place to enjoy the waves at Minot or Peggotty Beach. Afterwards go to Humarock Harbor and take a stroll along Front Street before heading to dinner.
Many year round residents choose Casabella Interiors as their go-to decorating hub. They covet Casabella Interiors' fabulous furniture, accessories, lighting, rugs, fabrics, drapery, etc. – which we're happy to travel the world to find. Longtime residents of Humarock and new homeowners in the area spend hours in our boutique dreaming of ways to make their homes beautiful. Many of them hire Casabella Interiors for our in-home couture package. With our professional know-how, we mix, match, and layer the most luxurious textures and patterns for your room, and make these pieces look as though they were curated over time.
Whether you're a residential or commercial client of Casabella Interiors, our staff and interior design team assists you in finding the best products for your space. Restaurants in Humarock have hired us to help them bring in new customers and to keep their workforce happy with uplifting interiors.
Commercial Interior Design in Humarock
Casabella Interiors workplace design is a window into how you run your Humarock organization. The look of your space is as important as the people you hire, your culture, and what you do. From layout, functionality, and accessibility to comfort and style, it's an integral part of your image.
Casabella Interiors commercial clients in Humarock include three restaurants, an office building, and assisted living facility. For them, our design team created unique workspaces that are forward-looking, solution-oriented, and an inspiration to everyone who enters.
It all begins with our initial 2-hour visit to your space. We analyze how you currently use your commercial space in Humarock and then we talk about your future business plans. We'll also figure out all the nitty gritty details that make you stand out in the marketplace. If you're genuinely invested in elevating the experience of your brand, Casabella Interiors is the right choice for you.
Residential Interior Design in Humarock
For our residential clients in Humarock, homeowners and second homeowners love that we have a surprising mix of home décor elements and decorating must-haves in our showroom. Casabella Interiors features home decorating products in an expansive range of categories—including rugs, fabrics, drapery furniture, accessories, lighting, and art. Since the Humarock area includes many vacation homes, we offer its residents a great number of interior design services and home décor.
Casabella Interiors design and decorating services include new construction, a la carte services like paint consultations and accessory packages, an in-home couture package, special design plans, and much more. Our interior design team—led by founder Michele Chagnon-Holbrook oversees each and every detail of our couture service—always careful of your lifestyle and budget. After clients retain us, we created a full-design plan —including floor plans, furnishings, lighting, paint recommendations, etc.
Casabella Interiors has built partnerships with reputable professionals in the field so that our design project management is effortless. That means Humarock homeowners who hire us don't have to worry about anything. Whether we're working on a total renovation, or just putting the finishing touches on a master suite and bathroom – we guarantee our clients a worry-free design experience.
Areas Served
Norwell
Hingham
Westport
Wayland
Wellesley
Weston
Scituate
Cohasset
Duxbury
Plymouth
Pembroke
Humarock
Marion
Dartmouth
Mattapoisett
Padanaram
Osterville
Chatham
Wellfleet
Harwich
Harwich Port
Truro
Falmouth
Yarmouth
Yarmouth Port
New Seabury
Dennis
Dennis Port
Orleans
Mashpee
Hyannis Port