A well-cared for home is intentional. Every. Detail. Matters. Walking into a beautiful, professionally designed room is energizing. We can make tiny spaces feel spacious, and over-sized rooms feel cozy and inviting. We can bring high-style looks to even the most lacklustre places. And give a newly-built home a warm, familiar feel.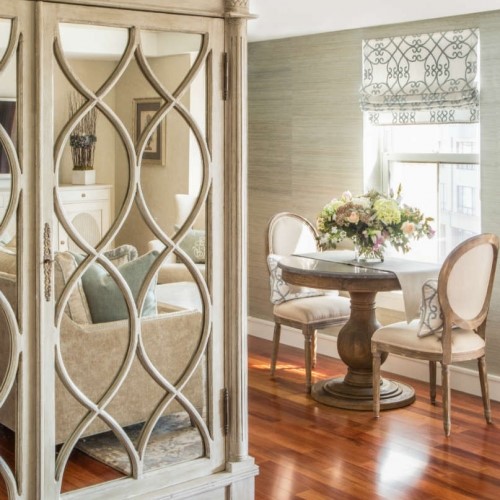 It all begins with inspiration. It's why every corner of our 2,500-foot showroom brims with a globally-curated mix of impossible to find furniture, accessories, lighting, rugs, fabrics, drapery, and art. It's also because of inspiration that our Studio came to be. From the day we first offered decorating services, we have been inspired to bring your long-loved design dreams to life. Our passion and desire grows with every project we do. (You can read more about that from our clients on our Testimonials page).
Casabella Interiors founder Michele Chagnon-Holbrook and her design team have the know-how to light up your Dennis Port home with sophisticated East Coast elegance. We're also experts at making the very most of your budget.
The Casabella Shop and Studio is located on the Cape, but we serve clients and customers throughout the East Coast, and beyond. From homeowners across the bridge (hello Boston, Duxbury and Hingham) to busy execs in our own backyard, we make collaborating remotely easy and stress-free. Since Cape Cod is an iconic destination, many people from NYC and all points north and east, plan their trip around a visit to our award-winning shop. If you know you're going to be in our area, call ahead a few weeks 508-888-8688 so we can set aside an hour or so to learn more about you and your family.
In the meanwhile, take a peek at our portfolio – chances are we've done a project or two near your hometown.
Casabella Interiors in Dennis Port
For years, Dennis Port is a place where the wealthy come to relax during the summer. Dennis Port is located an hour and a half from Boston and is centrally located in Cape Cod. The village is a short ferry ride from Martha's Vineyards and Nantucket. The "Mid Cape" town is home to 18 beaches, which are known as some of the best in the world.
Dennis Port was founded in the 1600s as part of Yarmouth. It was once a seafaring town centered around Shiverick Shipyard. Maritime traditions continue, fishing and private vessels dock here year round. Many stately mansions have been remodeled and converted into Inns. A primary vacation spot due to the warm waters of Cape Cod Bay and Nantucket Sound, Dennis Port is an idyllic location for sunbathing, fishing, whale watching, and surfing. The beaches of Dennis Port have been touted as some of the best you can find anywhere in the states. The town has a beloved artistic community – complete with small art galleries, exhibits and theatre — which provide great entertainment for its full-time and summer residents. Casabella Interiors works with many busy families in Dennis Port – the majority of them have multiple homes. From concepts to installation, our design studio specializes in individual rooms, full-house renovation, and commercial spaces. As the must-see destination for all big and small design projects, we offer as much (or as little) help as you need creating luxurious, well-loved living spaces.
High-End Interior Design for Dennis Port Homeowners
Casabella Interiors, founded by Michele Chagnon Holbrook, offers a complete range of high-end interior design and decorating services for residential and commercial communities throughout Cape Cod and the Boston area. A favorite design destination among Dennis Port first and second homeowners, Bostonians and Cape Coders, we'll help you navigate our lavish mix of furniture, art work, accessories, lighting, rugs, fabrics, drapery, and more – which we source from the best vendors in North America and Europe.
The Casabella Interiors Studio, home to an award-winning interior designer team, provides turnkey interiors that balance beauty with function. From small scale remodeling to large-scale renovations, our focus is always on quality. We offer expertise in space planning, in-home couture packages, paint consultation, order procurement, project management and installation, working closely with architects, builders and clients to deliver spaces that reflect the latest trends and styles in interior design. We offer comprehensive project management to support each project – including corporate facilities, hotels, restaurants, and luxury homes in Dennis Port.
Commercial Design Services in Dennis Port
• Complete design concepts and renderings
• Design development
• Work-place design strategies
• Space planning
• Construction management
• Assistance and support to builders and architects
• Furniture and fabric selections
• Full design consultation process from start to finish
Residential Design Services in Dennisport
• Concept development
• Sub-Contractor Coordinating
• New Construction or Renovations
• Second Home Interior Design
• Space Planning
• A la carte: Color Consulting, In-Home Couture, Accessorizing Packages
• Establish project time frames and budget guidelines
• Order procurement: floor and wall coverings, furniture, accessories, colors, materials, and lighting,
• Installation
• Construction supervision and coordination of your entire design project
Located on 6A in East Sandwich, Cape Cod, the Casabella Interiors shop is filled with decorating inspiration, and impossible to find furnishing and accessories. Each storied object we sell was curated by founder and principal designer Michele Chagnon-Holbrook.
Areas Served
Norwell
Hingham
Westport
Wayland
Wellesley
Weston
Scituate
Cohasset
Duxbury
Plymouth
Pembroke
Humarock
Marion
Dartmouth
Mattapoisett
Padanaram
Osterville
Chatham
Wellfleet
Harwich
Harwich Port
Truro
Falmouth
Yarmouth
Yarmouth Port
New Seabury
Dennis
Dennis Port
Orleans
Mashpee
Hyannis Port