A well-cared for home is intentional. Every. Detail. Matters. Walking into a beautiful, professionally designed room is energizing. We can make tiny spaces feel spacious, and over-sized rooms feel cozy and inviting. We can bring high-style looks to even the most lacklustre places. And give a newly-built home a warm, familiar feel.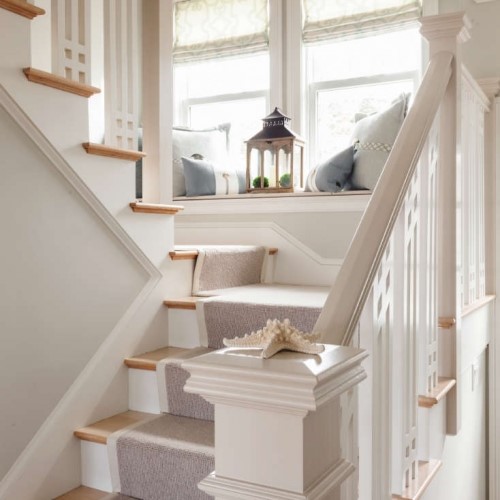 It all begins with inspiration. It's why every corner of our 2,500-foot showroom brims with a globally-curated mix of impossible to find furniture, accessories, lighting, rugs, fabrics, drapery, and art. It's also because of inspiration that our Studio came to be. From the day we first offered decorating services, we have been inspired to bring your long-loved design dreams to life. Our passion and desire grows with every project we do. (You can read more about that from our clients on our Testimonials page).
Casabella Interiors founder Michele Chagnon-Holbrook and her design team have the know-how to light up your Truro home with sophisticated East Coast elegance. We're also experts at making the very most of your budget.
The Casabella Shop and Studio is located on the Cape, but we serve clients and customers throughout the East Coast, and beyond. From homeowners across the bridge (hello Boston, Duxbury and Hingham) to busy execs in our own backyard, we make collaborating remotely easy and stress-free. Since Cape Cod is an iconic destination, many people from NYC and all points north and east, plan their trip around a visit to our award-winning shop. If you know you're going to be in our area, call ahead a few weeks 508-888-8688 so we can set aside an hour or so to learn more about you and your family.
In the meanwhile, take a peek at our portfolio – chances are we've done a project or two near your hometown.
Casabella Interiors in Truro
Truro is a town in Barnstable County, Massachusetts, located two hours outside Boston and just 25 minutes from Casabella Interiors. Like many towns just moments from the tip of Cape Cod, it's a summer vacation community. Named after Truro in Cornwall, England, it used to be know by the natives as Pamet or Payomet. However, people still refer to the downtown area as Pamet Roads. During the summer months, 17,000 people visit Truro each year to enjoy the sun, the woods and the beach. The National Seashore was preserved in 1970 so many areas of Truro kept its natural state. Early settlers lived an idyllic life for in Truro.
Today there are 2,003 residents and 15,000 – 20,000 summer residents. Vacationers enjoy the following beaches: Ballston, Beach Point, Coast Guard, Cold Storage, Corn Hill, Fisher, Great Hollow, Head of the Meadow, Longnook, and Ryder.
Premier Truro Interior Designers
Casabella Interiors is one of the premier interior design firms in Cape Cod. We specialize in designing, restoring and refurbishing prestigious custom interiors for residential properties, commercial developments, clubs, hotels, restaurants and luxury condominiums. Our founder, Michele Holbrook takes a hands-on approach to all our design projects, working one-on-one with Truro clients to build their dream spaces. Casabella Interiors focuses on designing distinctive interiors with a sophisticated east coast aesthetic. Many of our projects have been completed throughout Cape Cod and Boston, and have earned national recognition. From cutting-edge contemporaries to modern to historical and transitional design, our portfolio includes many clients from Truro.
A Truro Client's Experience
One of our favorite design projects was working with Donella Miller of Truro. Before she hired Casabella Interiors for her Cape Cod home, we redesigned a sophisticated urban condo for her in Boston Proper. Casabella Interiors completely redid the interior of the apartment, so we began with a showroom consultation where they picked their favorite pieces of Spanish art, Italian and French linens of the highest quality, wool and sisal rugs, and a luxe combination of lighting, accessories, fine upholstered furniture and fabrics, and custom drapery.
We mixed neutrals together, offered contrast with mahogany furniture and added texture with soft upholstered pieces we sourced from France. All Casabella Interiors design projects focus on texture. We see it as the key to creating layered luxury – and not just in the fabrics and wood finishes, but in the natural marble, mirrored decorative accents and kitchen and bathroom fixtures as well as lighting throughout the condo.
When she engaged Casabella Interiors to help her redesign her Truro residence, we chose soft neutrals and serene sea-toned palettes throughout the 6,000 square foot traditional. In the couple's bedroom renovation we decided on an elegant, contemporary style. We mixed brushed metals with mosaic stones and rich millwork to give the suite depth and interest. We chose fabric with distinctive weaves and added leather accents and soft lighting to make the room glow any time of day.
The Miller's house is on the beach and they use it year round for entertaining. The exterior of the project was important and the pool area was the main focal point. We added a comfortable lounge seating area with chaises, and also created an expansive area for the family to dine in comfort and luxury. Of course, durability was important so we chose sturdy fabrics and lots of sea grass, mother of pearl, woven rattan, shapely carved wood, and polished travertine.
Interior Design Services Offered
For other Truro second homeowners, Casabella Interiors projects included:
• Consultations for Construction
• Paint Scheme planning
• Custom Furniture Design
• Space Planning
• 3-D renderings
• Kitchen and Bath Designs
• Custom Window Treatments
Areas Served
Norwell
Hingham
Westport
Wayland
Wellesley
Weston
Scituate
Cohasset
Duxbury
Plymouth
Pembroke
Humarock
Marion
Dartmouth
Mattapoisett
Padanaram
Osterville
Chatham
Wellfleet
Harwich
Harwich Port
Truro
Falmouth
Yarmouth
Yarmouth Port
New Seabury
Dennis
Dennis Port
Orleans
Mashpee
Hyannis Port