A well-cared for home is intentional. Every. Detail. Matters. Walking into a beautiful, professionally designed room is energizing. We can make tiny spaces feel spacious, and over-sized rooms feel cozy and inviting. We can bring high-style looks to even the most lacklustre places. And give a newly-built home a warm, familiar feel.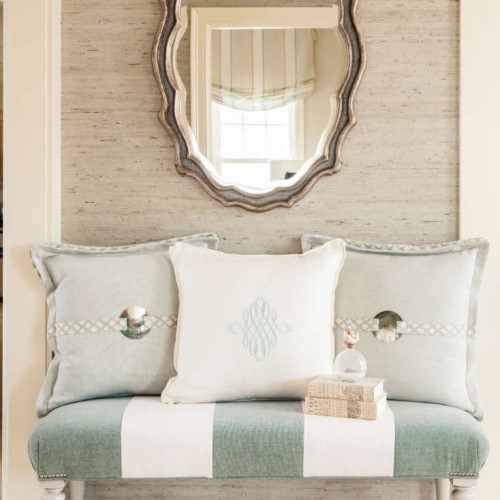 It all begins with inspiration. It's why every corner of our 2,500-foot showroom brims with a globally-curated mix of impossible to find furniture, accessories, lighting, rugs, fabrics, drapery, and art. It's also because of inspiration that our Studio came to be. From the day we first offered decorating services, we have been inspired to bring your long-loved design dreams to life. Our passion and desire grows with every project we do. (You can read more about that from our clients on our Testimonials page).
Casabella Interiors founder Michele Chagnon-Holbrook and her design team have the know-how to light up your home with sophisticated East Coast elegance. We're also experts at making the very most of your budget.
The Casabella Shop and Studio is located on the Cape, but we serve clients and customers throughout the East Coast, and beyond. From homeowners across the bridge (hello Boston, Humarock and Mattapoisett) to busy execs in our own backyard, we make collaborating remotely easy and stress-free. Since Cape Cod is an iconic destination, many people from NYC and all points north and east, plan their trip around a visit to our award-winning shop. If you know you're going to be in our area, call ahead a few weeks 508-888-8688 so we can set aside an hour or so to learn more about you and your family.
In the meanwhile, take a peek at our portfolio – chances are we've done a project or two near your hometown.
Casabella Interiors in Mattapoisett
Our love affair with interior design inspires everything we do at Casabella Interiors. Creating spaces our Mattapoisett clients adore is our driving passion. Curating exclusive pieces we treasure from around the world is also great fun. As a team, we believe that anything we envision can be brought to life. Our Casabella Interiors showroom is a reflection of that. It's why many of our shop customers from Mattapoisett become our design clients. We also never tire of hearing our clients say, "Never—in a hundred years—would I have thought of that on my own!"
At Casabella Interiors, we're all about building lasting relationships. Our approach, sensibility, and products are refined, but we're a team of down to earth and relatable people who always have our customer's best interest in mind. We're invested in making sure their needs come first. The majority of our business comes from referrals in the Mattapoisett area, so our clientele have played a big role in our success.
A Passion For Design
We feel fortunate to do what we love. We go to the Casabella Interiors design studio and shop and work with people who are passionate, talented, and invested. We get to collaborate with interesting clients like the Daniels family of Mattapoisett who came to us to solve a design problem in their living room. We worked with the architecture of their home and were able to create elegant spaces for the couple and their teenage son. Riley Daniels said of her new space, "I'm surrounding by beautiful things all day and I love the inventive way Michele and her design team helped us work around a design challenge. Casabella Interiors showed us a both traditional and on-trend home decorating items –including fabrics, drapery, furniture, accessories, lighting, rugs, and art. With so many beautiful and tempting home decor possibilities, it was a dream to work with them and choose the best items for my space. Plus, the Casabella Interiors staff was so delightful and friendly."
Sophisticated Interior Design Style
We love bringing our sophisticated east coast style to homeowners in Mattapoisett – who live only 30 minutes from our shop. Our design team helps many summer residents update their home for the season. We offer our couture clients in the South Coast community the personal attention they deserve. To set the stage for a close, successful collaboration, Casabella Interiors limits the design projects we take on each year. By focusing on what matters—presenting ideas you never dreamed of—we walk you through each step of design process with as much efficiency and grace as possible. Our interior design team—led by Michele Chagnon-Holbrook oversees every detail of our couture service. Over the last five years, we've built partnerships with Mattapoisett professionals so that our design projects flow seamlessly. Hire us for a top-to-bottom renovation, or to add accessories to your space, and our top-rated professionals—including painters, upholsterers, carpenters– among others, will ensure a stress-free design experience.
With 6,500 square feet of beautiful home accents and accessories at the ready, we can transform your Mattapoisett home in an afternoon with our interiors accents package. What's more, we have the know-how and expertise to make these final pieces look like they were meant for your space.
Interior Design Services in Mattapoisett
Other design services Casabella Interiors offers clients in Mattapoisett include:
* Conceptual Design
* Planning
* Turn-key Installation
* Commercial
* Construction Phase
* In-Home Redesign
* Paint Color Consultation
* Accessorizing
* Showroom Consultation
Areas Served
Norwell
Hingham
Westport
Wayland
Wellesley
Weston
Scituate
Cohasset
Duxbury
Plymouth
Pembroke
Humarock
Marion
Dartmouth
Mattapoisett
Padanaram
Osterville
Chatham
Wellfleet
Harwich
Harwich Port
Truro
Falmouth
Yarmouth
Yarmouth Port
New Seabury
Dennis
Dennis Port
Orleans
Mashpee
Hyannis Port