A well-cared for home is intentional. Every. Detail. Matters. Walking into a beautiful, professionally designed room is energizing. We can make tiny spaces feel spacious, and over-sized rooms feel cozy and inviting. We can bring high-style looks to even the most lacklustre places. And give a newly-built home a warm, familiar feel.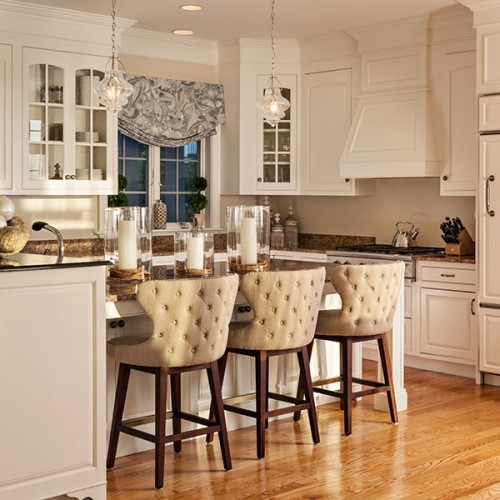 It all begins with inspiration. It's why every corner of our 2,500-foot showroom brims with a globally-curated mix of impossible to find furniture, accessories, lighting, rugs, fabrics, drapery, and art. It's also because of inspiration that our Studio came to be. From the day we first offered decorating services, we have been inspired to bring your long-loved design dreams to life. Our passion and desire grows with every project we do. (You can read more about that from our clients on our Testimonials page).
Casabella Interiors founder Michele Chagnon-Holbrook and her design team have the know-how to light up your home with sophisticated East Coast elegance. We're also experts at making the very most of your budget.
The Casabella Shop and Studio is located on the Cape, but we serve clients and customers throughout the East Coast, and beyond. From homeowners across the bridge (hello Boston, Norwell and Hingham) to busy execs in our own backyard, we make collaborating remotely easy and stress-free. Since Cape Cod is an iconic destination, many people from NYC and all points north and east, plan their trip around a visit to our award-winning shop. If you know you're going to be in our area, call ahead a few weeks 508-888-8688 so we can set aside an hour or so to learn more about you and your family.
In the meanwhile, take a peek at our portfolio – chances are we've done a project or two near your hometown.
Casabella Interiors in Hingham
To Hingham homeowners and second homeowners, our principal interior designer, Michele Chagnon Holbrook is known for her incredible design eye, her ability to turn her vision into a beautiful reflection of her client's personal style, and the stunning award-winning Casabella Interiors shop in East Sandwich.
Years ago, when Michele was shopping for fine furnishings and unique home décor items for her Cape Cod home in MA, which she newly purchased with her husband, she grew frustrated with the limited selection available. Fortunately for homeowners on Cape Cod and in the Boston area, her frustration inspired a new interior design business and a home decorating store called Casabella Interiors.
Designer Michele Chagnon Holbrook
"I started Casabella Interiors because I know how difficult it is to find all those extra touches that make a house a home," Michele explained. "Casabella Interiors is a creation of all the items that I love personally and hope that my clients love, as well. Many people walk through the doors of Casabella Interiors and say that 'I want to live here.' I can't imagine a bigger compliment."
Many of our clientele and home décor customers. Located in northern Plymouth County, the town is on the South Shore of the U.S. state of Massachusetts. There are close to 22,561 homeowners, located southeast of Boston. 47% are second homeowners living on the Cape during the summer months. The town was was first dubbed "Bare Cove" by the first colonizing English in 1633. But a few years later, the incorporated name became "Hingham". The town was named after a village in the English county of Norfolk, East Anglia, whence many of its first residents came. Those early residents include Abraham Lincoln's ancestor Samuel Lincoln.
Interior design and home decorating clients from the town say that Casabella Interiors curated collection of one-of-a-kind accessories and home furnishings is a big part of what makes them unique. Michele handpicks every piece in the store, and they are all displayed in breathtaking, ever-changing vignettes based upon the seasons.
But, home accessories and home furnishings for second homeowners tell only part of the Casabella Interiors story.
Since opening its doors in 2011, Casabella Interiors expanded its interior design services. Many Hingham homeowners now take advantage of Casabella's Home Couture package, which includes an in-home two-hour interior design consultation.
"We provide lots of ideas in that two-hour period, and usually our clients are frantically taking their own notes about what we suggest," Michele says. "From picking paint, lighting, rugs and fabrics to new furnishings and accessories – even if it's something as small as new knobs on kitchen cabinets –our designers can help you choose the right accessories and home furnishings for your home. Our choices are based on scale, color, texture and budget. Our goal is to help our clients spend their decorating dollars wisely to achieve the biggest impact for their budget."
The comprehensive design services we provided to Hingham homeowners in Massachusetts include:
Home Redesign
Paint Color Consultation
Space Planning
Home Accessories
Sourcing & Purchasing
Showroom Consultation
Design & Master Planning
Home Couture Consultation
Project Management
Construction Phase Design
Michele and her team of interior designers are constantly researching home decor and interior trends, to find special treasures that make Casabella Interiors so unique. Those efforts are paying off, as Casabella Interiors is now the premier destination for home décor and furnishings in Hingham and other areas in southeastern Massachusetts.
Areas Served
Norwell
Hingham
Westport
Wayland
Wellesley
Weston
Scituate
Cohasset
Duxbury
Plymouth
Pembroke
Humarock
Marion
Dartmouth
Mattapoisett
Padanaram
Osterville
Chatham
Wellfleet
Harwich
Harwich Port
Truro
Falmouth
Yarmouth
Yarmouth Port
New Seabury
Dennis
Dennis Port
Orleans
Mashpee
Hyannis Port