A well-cared for home is intentional. Every. Detail. Matters. Walking into a beautiful, professionally designed room is energizing. We can make tiny spaces feel spacious, and over-sized rooms feel cozy and inviting. We can bring high-style looks to even the most lacklustre places. And give a newly-built home a warm, familiar feel.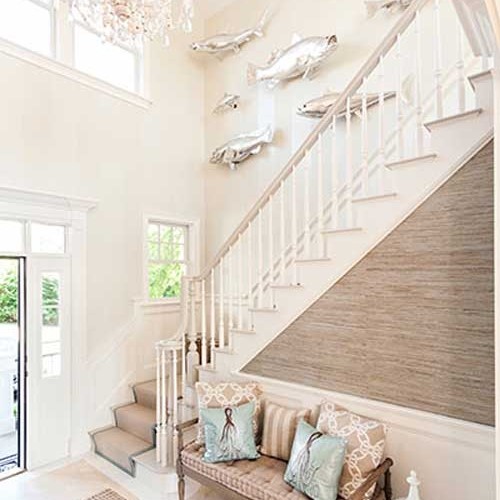 It all begins with inspiration. It's why every corner of our 2,500-foot showroom brims with a globally-curated mix of impossible to find furniture, accessories, lighting, rugs, fabrics, drapery, and art. It's also because of inspiration that our Studio came to be. From the day we first offered decorating services, we have been inspired to bring your long-loved design dreams to life. Our passion and desire grows with every project we do. (You can read more about that from our clients on our Testimonials page).
Casabella Interiors founder Michele Chagnon-Holbrook and her design team have the know-how to light up your Mashpee home with sophisticated East Coast elegance. We're also experts at making the very most of your budget.
The Casabella Shop and Studio is located on the Cape, but we serve clients and customers throughout the East Coast, and beyond. From homeowners across the bridge (hello Boston, Duxbury and Hingham) to busy execs in our own backyard, we make collaborating remotely easy and stress-free. Since Cape Cod is an iconic destination, many people from NYC and all points north and east, plan their trip around a visit to our award-winning shop. If you know you're going to be in our area, call ahead a few weeks 508-888-8688 so we can set aside an hour or so to learn more about you and your family.
In the meanwhile, take a peek at our portfolio – chances are we've done a project or two near your hometown.
Casabella Interiors in Mashpee
Cape Cod's premiere destination for shopping, dining and live entertainment, Mashpee is place where a variety of ages, incomes and lifestyles come together to enjoy a wonderful quality of life. The town is located in Barnstable County, on Cape Cod. It's home to 14,006 residents.
Mashpee is known both for tourist recreation – which attracts thousands of summer visitors each year. There are many seasonal businesses – like Casabella Interiors—to support this vacation destination. The town's permanent, year-round population has doubled since in the last thirty years. The TV show host Rachael Ray grew up in Mashpee. Her family owned a restaurant called "The Carvery."
Interior Design Project Management
With extensive experience working with builders, contractors, architects and artisans, Casabella Interiors led by found Michele Chagnon Holbrook offers a full range of services for clients.
Whether your Mashpee project involves new construction, renovation or decorating, working with an experienced design team like Casabella Interiors open doors to a world of possibilities. We create an experience that's rewarding, fun, and cost effective. We offer complete interior design services, for both commercial and residential projects, from Falmouth to Mashpee to Orleans to the Outer Cape.
• New Construction or Renovation
• Kitchen and Bath Design
• Paint Schemes/Color Palettes
• Custom Window Treatments
• Lighting Specifications
• Furniture Selection and Placement
• Area Rugs and Carpet
• Art and Accessories
For Mashpee projects large and small, we provide expertise, guidance and project management. Casabella Interiors design consulting includes project planning, new construction, renovations, and more. We believe you should love your surroundings at your home and in your workplace. Our goal at Casabella Interiors is to make your residential or commercial interior design project stress-free and enjoyable by providing the best client service, award-winning innovation, and attention to detail.
Hands-On Interior Design for Mashpee Residents
Your one-stop design center for innovative home interiors and beautifully crafted interiors, Casabella Interiors offers full interior design assistance whether you are remodeling or undertaking new home construction. We listen to your needs and assist you in selecting the right products for your space. We can also work with your current design to enhance your home and make your dreams a reality. Our designers give you and your project hands-on personal attention. A favorite award-winning shop in Cape Cod, Casabella Interiors designers work with Mashpee natives to help them navigate our high-quality mix of furniture, accessories, lighting, rugs, fabrics, drapery, art, and more.
Casabella Interiors strive to make your project as stress-free as possible. With our physical design showroom in East Sandwich, you have the opportunity to see and touch product samples to help assist you with product selections.
Design Services
Casabella Interiors brings you the latest in design trends and new interior furnishings.
• Full kitchens and bathrooms
• Upholstery
• Cabinets and counter tops
• Space planning
• Open floor space design
• Custom cabinetry and furniture
• Paint consultation
• In-home couture package
• Accessorizing package
• New home construction
• Flooring
• Wall, ceiling and trim finishes
We also have a team of contractors and subcontractors who provide you with quality products and installation.
Our hours are Monday thru Saturday, 10:30 a.m. to 5 p.m.; Sundays noon to 5 p.m.
Private appointments available.
Areas Served
Norwell
Hingham
Westport
Wayland
Wellesley
Weston
Scituate
Cohasset
Duxbury
Plymouth
Pembroke
Humarock
Marion
Dartmouth
Mattapoisett
Padanaram
Osterville
Chatham
Wellfleet
Harwich
Harwich Port
Truro
Falmouth
Yarmouth
Yarmouth Port
New Seabury
Dennis
Dennis Port
Orleans
Mashpee
Hyannis Port