A well-cared for home is intentional. Every. Detail. Matters. Walking into a beautiful, professionally designed room is energizing. We can make tiny spaces feel spacious, and over-sized rooms feel cozy and inviting. We can bring high-style looks to even the most lacklustre places. And give a newly-built home a warm, familiar feel.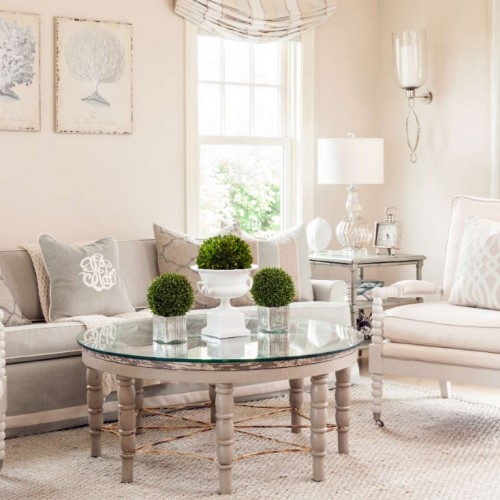 It all begins with inspiration. It's why every corner of our 2,500-foot showroom brims with a globally-curated mix of impossible to find furniture, accessories, lighting, rugs, fabrics, drapery, and art. It's also because of inspiration that our Studio came to be. From the day we first offered decorating services, we have been inspired to bring your long-loved design dreams to life. Our passion and desire grows with every project we do. (You can read more about that from our clients on our Testimonials page).
Casabella Interiors founder Michele Chagnon-Holbrook and her design team have the know-how to light up your Hyannis Port home with sophisticated East Coast elegance. We're also experts at making the very most of your budget.
The Casabella Shop and Studio is located on the Cape, but we serve clients and customers throughout the East Coast, and beyond. From homeowners across the bridge (hello Boston, Duxbury and Hingham) to busy execs in our own backyard, we make collaborating remotely easy and stress-free. Since Cape Cod is an iconic destination, many people from NYC and all points north and east, plan their trip around a visit to our award-winning shop. If you know you're going to be in our area, call ahead a few weeks 508-888-8688 so we can set aside an hour or so to learn more about you and your family.
In the meanwhile, take a peek at our portfolio – chances are we've done a project or two near your hometown.
Casabella Interiors in Hyannis Port
Hyannis Port is a small residential village located in Barnstable, Massachusetts. This affluent summer community of Hyannis Harbor is 1.4 miles to the south-southwest of Hyannis. Many residents own second homes in the town and the majority of them hire interior design Michele Chagnon Holbrook of Casabella Interiors.
When asked why you should hire an interior decorator rather than decorate your own home, Michele and her team provided some great insights to Cape Cod residents. For starters, homeowners want to showcase their home in its best light. Whether you have a good eye or not, your Hyannis Port home deserves a professional's touch. Since being a homeowner is already a huge investment, it's a smart decision to find a professional with years of experience to make it into your dream space – whatever your budget. And interior decorators aren't only for the rich and famous.
Affordable Interior Design in Hyannis Port
Many first time homeowners in Hyannis Port hire Casabella Interiors. A home that is planned out by a professional is obvious. The spacing and placement of furnishings, artwork, lighting, etc. should be symmetrical. A designer has the know-how to create harmonious living spaces by paying attention to scale, height and size, so each piece has the right fit for the space. You can't fake that kind of experience. Another reason to hire Casabella Interiors for your Hyannis Port renovation, or for any new construction project is that many people in the area pay way too much for furnishings, fabric, rugs, lighting, artwork, accessories, and bedding. Hyannis Port homeowners often overspend with electricians, painting crews, plumbers, and upholsters. Michele can get you a better price on products. And since she works with her own team of professionals, she will pass her savings on to you.
Design Services
Also, Casabella Interiors will come up with things you wouldn't normally think of. Not many people have the talent to turn a blank canvas or four walls into a well-appointed room. Lastly, If you know you are going to sell your Hyannis Port home down the line, you want to make sure its designed for resale. Design services Casabella Interiors offers:
• Space Planning
• Furniture flow
• Conceptual Design Package
• Construction Phase Design
• In-Home Redesign
• Paint Color Consultation
Client Story
For Kate Fielding of Hyannis Port, Casabella Interiors was instrumental in the process of building a master suite addition to their summer home. "When I saw on a Casabella ad in Boston magazine, I was excited because it was the exact style I love. I drove to their shop in East Sandwich – which wasn't too far from Hyannis Port, and fell in love. I met Michele and the rest of the team. I showed them a picture of a bedroom and said, "This is the look I want. They came to the house to look at my space and took pictures and measurements. Two weeks later, they presented us with their concepts. They showed us 2-3 options so we weren't overwhelmed. We found beautiful pieces – from a sleigh bed to lamps to bedding to rugs to window treatments and accessories. They ordered everything, worked with their own installation and paint crew in Hyannis Port, and managed all the details. It took the pressure off of me and my husband, and we actually had a blast creating this incredible space."
We also worked with Kate's neighbors on an in-Home Redesign for their kitchen, and new addition. Since our design team has a wealth of experience creating beautiful, inspired living spaces, we were able to use current pieces, layer in the latest styles they loved, and offer lots of great new ideas to freshen up their vacation home. Ultra modern pillows, rugs, and artwork lit up their new family room, and transitional lamps, linens and picture frames for their guest bedroom made the space perfect for visiting family and friends. Casabella Interiors has all the sophisticated creature comforts to transform your Hyannis Port house into a cozy home.
Areas Served
Norwell
Hingham
Westport
Wayland
Wellesley
Weston
Scituate
Cohasset
Duxbury
Plymouth
Pembroke
Humarock
Marion
Dartmouth
Mattapoisett
Padanaram
Osterville
Chatham
Wellfleet
Harwich
Harwich Port
Truro
Falmouth
Yarmouth
Yarmouth Port
New Seabury
Dennis
Dennis Port
Orleans
Mashpee
Hyannis Port