A well-cared for home is intentional. Every. Detail. Matters. Walking into a beautiful, professionally designed room is energizing. We can make tiny spaces feel spacious, and over-sized rooms feel cozy and inviting. We can bring high-style looks to even the most lacklustre places. And give a newly-built home a warm, familiar feel.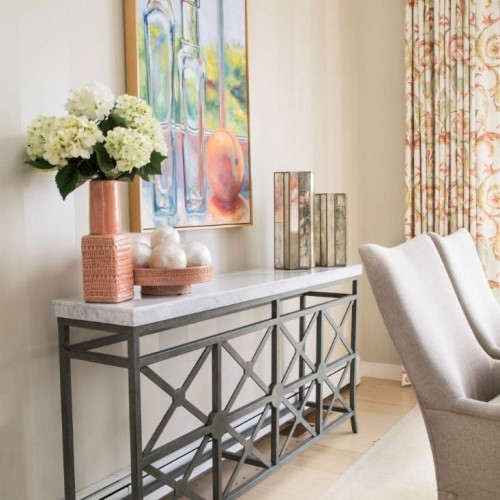 It all begins with inspiration. It's why every corner of our 2,500-foot showroom brims with a globally-curated mix of impossible to find furniture, accessories, lighting, rugs, fabrics, drapery, and art. It's also because of inspiration that our Studio came to be. From the day we first offered decorating services, we have been inspired to bring your long-loved design dreams to life. Our passion and desire grows with every project we do. (You can read more about that from our clients on our Testimonials page).
Casabella Interiors founder Michele Chagnon-Holbrook and her design team have the know-how to light up your home with sophisticated East Coast elegance. We're also experts at making the very most of your budget.
The Casabella Shop and Studio is located on the Cape, but we serve clients and customers throughout the East Coast, and beyond. From homeowners across the bridge (hello Boston, Plymouth and Duxbury) to busy execs in our own backyard, we make collaborating remotely easy and stress-free. Since Cape Cod is an iconic destination, many people from NYC and all points north and east, plan their trip around a visit to our award-winning shop. If you know you're going to be in our area, call ahead a few weeks 508-888-8688 so we can set aside an hour or so to learn more about you and your family.
In the meanwhile, take a peek at our portfolio – chances are we've done a project or two near your hometown.
Casabella Interiors in Plymouth
Plymouth holds a special place in American history. It's a coastal town in Massachusetts, south of Boston. It's the site of the first Pilgrim settlement, Plymouth Rock. The Mayflower II, a full-scale ship replica is typically anchored in the harbor. Situated on the bay, Plymouth Harbor offers convenient location near all the top waterfront attractions. Stationed within walking distance of great shopping like award-winning Casabella Interiors, Plymouth is a scenic post for thousands of vacationers each year.
Vacation Home Interior Design
Some of those vacationers fall in love while visiting and decide to buy a home on Plymouth Bay. Thomas and Mark are both architects in NYC who did just that. They soon hired Casabella Interiors. Mark shared, "The project originally started out small, but when Michele came for a consultation as part of a design package, she opened our mind to the possibilities of our space. We wound up renovating our entire Plymouth home (from the studs up: flooring, new feature walls, lighting, paint scheme, furnishings, artwork, rugs, and accessories, and all our outdoor space and furnishings). Casabella Interiors conceptualized exactly what we wanted, turned our ideas into a home that exceeded our wildest dreams."
Thomas continued, "Somehow Michele and the rest of the Casabella Interiors design crew managed to make our 2,000 square foot beach bungalow look a lot roomier. The redesign was a big investment, but it was worth every penny. Michele and her team really transformed our home so each room was gorgeous and well-appointed. To us, and our guests, our home looks like something out of a glossy city magazine. Thankfully, Casabella Interiors handled everything so we didn't need to worry about the details like coordinating with the electrician and painting crew. What a relief! Since working with them, we have recommended them to many of our neighbors – who have since retained them. We're one of the most fashionable blocks in Plymouth thanks to Michele. It's no wonder Casabella Interiors was voted Best Shop for the Home by Cape Cod Life for 5 years running."
Top Quality Designers
As New England's top design studio, we offer high style resources for all things home. The Casabella Interiors shop is only 20 minutes from Plymouth. The layout was designed so you can look and feel your way through it – and discover unexpected, yet perfect finishing touches for every space in your home. We filled it with impossible to find fabrics, drapery, art, furniture, accessories, lighting, rugs, and more. And what's more, Casabella Interiors finds the best sources from vendors around the world and only bring the most unique of their collections into our one-stop design destination. Founder and principal designer of Casabella Interiors, Michele Chagnon-Holbrook handpicks each and every decorating object in our shop, each one curated to elevate your space.
Blending classic elegance with modern comfort, Casabella Interiors award-winning design team creates stunning, layered interiors using soothing textures and neutral hues. From concepts to installation, Michele and her design team specialize in designing entire houses, individual rooms, and commercial spaces in Plymouth and other south shore communities. In essence, we live and breath home décor and designing.
Affordable Interior Design
Like we did for Thomas and Mark, Casabella Interiors design team facilitates the entire process so it's seamless and stress-free. We also employ time-tested design efficiencies, like choosing products and contractors that are available when we need them, so that your project stays on schedule and on budget. Many designers in the Plymouth area don't have our extensive resources so drive up their fees by inflating retail prices and services. Because we have a showroom, marketplace, dedicated vendors, and an extended team of professional contractors, we're are experts at reducing costs so and working with streamlined budgets.
Areas Served
Norwell
Hingham
Westport
Wayland
Wellesley
Weston
Scituate
Cohasset
Duxbury
Plymouth
Pembroke
Humarock
Marion
Dartmouth
Mattapoisett
Padanaram
Osterville
Chatham
Wellfleet
Harwich
Harwich Port
Truro
Falmouth
Yarmouth
Yarmouth Port
New Seabury
Dennis
Dennis Port
Orleans
Mashpee
Hyannis Port