A well-cared for home is intentional. Every. Detail. Matters. Walking into a beautiful, professionally designed room is energizing. We can make tiny spaces feel spacious, and over-sized rooms feel cozy and inviting. We can bring high-style looks to even the most lacklustre places. And give a newly-built home a warm, familiar feel.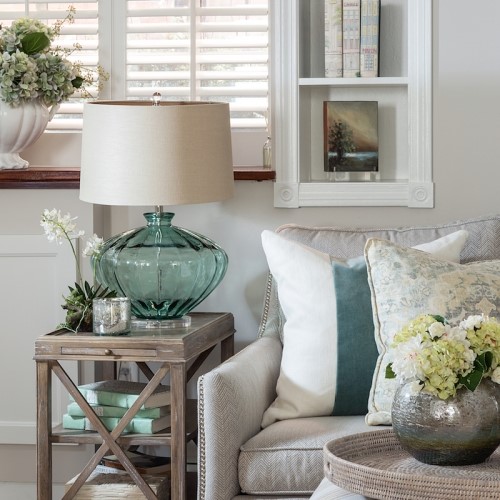 It all begins with inspiration. It's why every corner of our 2,500-foot showroom brims with a globally-curated mix of impossible to find furniture, accessories, lighting, rugs, fabrics, drapery, and art. It's also because of inspiration that our Studio came to be. From the day we first offered decorating services, we have been inspired to bring your long-loved design dreams to life. Our passion and desire grows with every project we do. (You can read more about that from our clients on our Testimonials page).
Casabella Interiors founder Michele Chagnon-Holbrook and her design team have the know-how to light up your Osterville home with sophisticated East Coast elegance. We're also experts at making the very most of your budget.
The Casabella Shop and Studio is located on the Cape, but we serve clients and customers throughout the East Coast, and beyond. From homeowners across the bridge (hello Boston, Duxbury and Hingham) to busy execs in our own backyard, we make collaborating remotely easy and stress-free. Since Cape Cod is an iconic destination, many people from NYC and all points north and east, plan their trip around a visit to our award-winning shop. If you know you're going to be in our area, call ahead a few weeks 508-888-8688 so we can set aside an hour or so to learn more about you and your family.
In the meanwhile, take a peek at our portfolio – chances are we've done a project or two near your hometown.
Casabella Interiors in Osterville
Osterville, a seaside town with just a few thousand year-round residents, is thirty minutes from the Casabella Interiors shop and studio. A tiny, remote harbor beach on East Bay looks out on moored boats and a narrow passage that leads out to the sea. Many artists are drawn to the area. The most popular interior design service we offer to Osterville homeowners is our In-Home Couture Package. Our design team has a wealth of experience creating gorgeous living spaces in Osterville. We find endless inspiration in the natural beauty of this coastal hamlet, and often use a soothing ocean-toned palette for our customer's interior spaces. In addition to fabrics, artwork and drapery, our shop features high-style furniture, accessories, lighting, and rugs, culled from the most prestigious vendors in the world. So whether you're in the boutique for an hour, or you're one of Casabella Interiors' longtime residential or commercial clients, you're sure to discover distinctive home goods ideal for your decorating style.
Running along the banks of the village harbor in Osterville you will find delightful walking paths and gardens – there's also a boardwalk with restaurants and shops. The family-friendly village comes alive in the summer months with many vacationers flocking to the lovely gardens and beaches. The Casabella Interiors shop is busy in the warmer months as many second homeowners in the South Coastal Massachusetts region are looking for ways to freshen up their homes for the season. To ready your home for entertaining, shop our extensive collection of hostess gifts, pillows, linens, and home accents.
Osterville Client Testimonial
During a recent trip to Casabella Interiors, one of our Osterville customers, Peggy Layten, needed the finishing touches on a few of her rooms. The busy stay at home mother of three works with the Casabella Interiors staff remotely. She said, "I don't have time to shop since I'm busy with my children, so throughout the years, I'd send them emails with products that I found online that I wanted. If I had time, I'd breeze in and show them pictures of my space and ask them for help. They are always so helpful and innovative. I'm one of those people who know immediately when I like something. I love that the Casabella Interiors team has this incredible eye and vision for putting things together. My Osterville home is styled with cool grays, sea greens and cream colors which is the same design sensibility Michele has so it's really easy for us to find great pieces at the shop that work with my decorating style."
Peggy referred Casabella Interiors to a few of her Osterville neighbors and now they all shop there. Sometimes they drive to the shop together and make an afternoon out of it.
As the go-to destination for all your big and small design projects, we offer as much (or as little) help as you need creating luxurious, well-loved living spaces. Our award-winning design team creates rich, layered interiors using subtle textures and muted hues like cool grays, ivory and pale blue. We blend classic elegance with modern comfort to give our Osterville clients serene beautiful spaces to live in. From concepts to installation, the Casabella Interiors design studio specializes in entire houses, individual rooms, and commercial spaces.
Design Services for Osterville Clients
In addition to design and master planning services, Casabella Interiors offers a Showroom Consultation package and the following:
* Layout and space planning
* Construction Phase Design
* Product Sourcing & Purchasing
* Home Couture Consultation
* Design Project Management
* Home Redesign
* Paint Scheme Consultation
Areas Served
Norwell
Hingham
Westport
Wayland
Wellesley
Weston
Scituate
Cohasset
Duxbury
Plymouth
Pembroke
Humarock
Marion
Dartmouth
Mattapoisett
Padanaram
Osterville
Chatham
Wellfleet
Harwich
Harwich Port
Truro
Falmouth
Yarmouth
Yarmouth Port
New Seabury
Dennis
Dennis Port
Orleans
Mashpee
Hyannis Port