A well-cared for home is intentional. Every. Detail. Matters. Walking into a beautiful, professionally designed room is energizing. We can make tiny spaces feel spacious, and over-sized rooms feel cozy and inviting. We can bring high-style looks to even the most lacklustre places. And give a newly-built home a warm, familiar feel.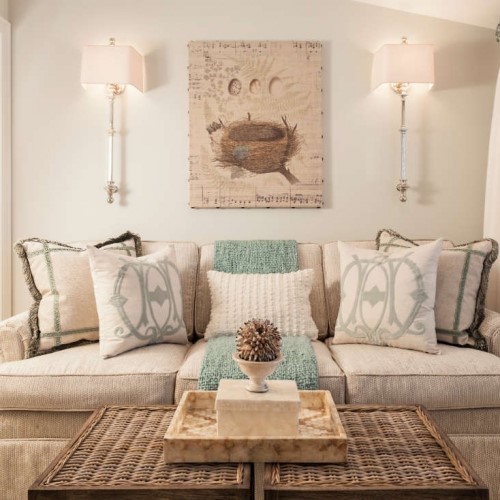 It all begins with inspiration. It's why every corner of our 2,500-foot showroom brims with a globally-curated mix of impossible to find furniture, accessories, lighting, rugs, fabrics, drapery, and art. It's also because of inspiration that our Studio came to be. From the day we first offered decorating services, we have been inspired to bring your long-loved design dreams to life. Our passion and desire grows with every project we do. (You can read more about that from our clients on our Testimonials page).
Casabella Interiors founder Michele Chagnon-Holbrook and her design team have the know-how to light up your South Shore home with sophisticated East Coast elegance. We're also experts at making the very most of your budget.
The Casabella Shop and Studio is located on the Cape, but we serve clients and customers throughout the East Coast, and beyond. From homeowners across the bridge (hello Boston and the South Shore) to busy execs in our own backyard, we make collaborating remotely easy and stress-free. Since Cape Cod is an iconic destination, many people from NYC and all points north and east, plan their trip around a visit to our award-winning shop. If you know you're going to be in our area, call ahead a few weeks 508-888-8688 so we can set aside an hour or so to learn more about you and your family.
In the meanwhile, take a peek at our portfolio – chances are we've done a project or two near your hometown.
Casabella Interiors in the South Shore
The geographic region that is considered the South Shore of Massachusetts stretches south and east from Boston toward Cape Cod. It's situated in eastern Norfolk and Plymouth counties along the shores of Massachusetts Bay and Cape Cod Bay. For decorating enthusiasts, Casabella Interiors is only an hour away.
There are a few definitions of the region. However the one most people refer to is comprised of cities and towns that physically border the Atlantic Ocean – including Braintree, Cohasset, Duxbury, Hingham, Hull, Kingston, Marshfield, Plymouth, Quincy, Scituate and Weymouth.
The territory is know as the Irish Riviera". It has a good mix of rurual and urban communities with a very heavy population of Irish-American residents – many of whom either come from Ireland or who have ancestors from there.
According to the 2010 Census, the South Shore has a total population of 328,431. The median age – which is 37 is relatively low compared to the rest of the state. It has the a very low population (6 percent) of people who are older than 75 years of age.
For its housing market, the highest median selling price in recent years is in the town of Hingham. The median house price jumped from $665,000 in 2005 to $650,000 in 2012. Many of the area's residents have a great deal of disposable income. As such, they often hire interior designers like Michele Holbrook of Casabella Interiors to renovate and redecorate their homes. Same for new construction.
If you wish to drive into Boston on the regular, the South Shore is a bit of a drive. From Duxbury it takes 1 1/2 hours to get to Boston during the a.m commute. Otherwise, if there's light traffic, it's only 35-40 minutes. You can add another 10 minutes onto that if your coming from Plymouth.
The area is expanding at an incredible rate, and has beautiful communities like Cohasset, Marshfield, and Duxbury. If you're moving to these areas, expect to find families with large incomes, large, beautiful houses and expensive real estate with top-notched landscape. Of these well-educated towns, Cohasset is the most sought-after place to live. With the areas strict zoning laws, you won't find big box stores.
The school systems in all of these towns are at the top-tiers in the state of Massachusetts. But Duxbury is known to have the best district of the three.
Duxbury has a lovely, very secluded upscale New England country feel. If you're looking for the quiet life, you will find it an enjoyable place to live and raise a family. For home decorating and décor shopping, you can drive nearby to East Sandwich where you will find Casabella Interiors – an award-winning shop and interior design studio.
Cohasset is closer to Boston, and the town has been building a new commuter rail line to help those who work in the city. As a result, Cohasset may get more built up. Marshfield is a bit more mixed with both affluent and working class neighborhoods and picturesque New England beaches.
Areas Served in Boston's South Shore
Norwell
Hingham
Westport
Scituate
Cohasset
Duxbury
Plymouth
Pembroke
Humarock
Marion
Dartmouth
Mattapoisett
Padanaram